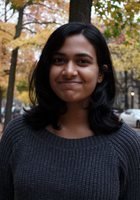 Thara
Certified Tutor
I have tutored since I was 16 and I was able to do so at my local library. Children of various ages would come by for free tutoring and I would find solace in helping them with their homework amidst my busy days. I loved the job so much I applied to be a tutoring supervisor my senior year of high school. Tutoring students and knowing that I've made a small impact on their life made me realize that this is something I wanted in my future. My favorite part was to hear that familiar "Oh!" moment from each of my students because it was an indicator that the connection clicked in their mind, reassuring me that we both were on the right track.
After high school, I became a Learning Assistant at Boston University for various subjects (Physics 2 and Statistics). There was a level of nostalgia and comfort that overtook me when I taught these courses. I was able to learn about the nuances of teaching and the subjectivity of the field. I came out of this learning more about the way I learn and teach and how I can communicate my understanding to others around me. Perhaps this knowledge seeped into my own life because I found myself practicing techniques I learned from my previous students with my friends who asked for help in the subjects we were learning together.
We can see teaching everywhere we go and in all professions, so I hope to continue teaching even as I've reached other professional goals and especially since I've just recently graduated college. It's a rewarding experience every time and one of the best ways to impact the world around us.
Education & Certification
Undergraduate Degree: Boston University - Bachelor in Arts, Neuroscience
Hobbies
I love love love to... -read all books (though I do enjoy speculative fiction) -write (I'm currently working on a fantasy novel, but only have 10% of the world building done) -cook anything and everything -sit around and just listen to music
Tutoring Subjects
College Statistics
Neuroscience
Physics 2