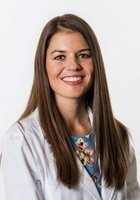 Alexis
Certified Tutor
As a certified physician assistant and avid learner myself, my passion is to help physician assistant students prepare for a fulfilling career by first successfully passing the PANCE.

While the PANCE may seem like an overwhelming and daunting task, I can help streamline materials and key points to focus on, as well as provide testing "tips and tricks" in order to succeed. I will work with you as much as our schedules allow to make you feel more comfortable and confident moving forward with the exam.

I graduated PA school in December 2018 and passed the PANCE in early January 2019. I have stayed up-to-date with PA course materials as I also plan to teach as a adjunct professor in the near future. I currently work as a internal medicine and rheumatology PA, and previously worked in orthopedics and cardiothoracic surgery for two years immediately following my PA certification.

Prior to attending PA school, my educational journey began as an athletic training and exercise science major in my undergraduate studies. I successfully passed my athletic training board of certification exam and then began my Master's of Science in Orthopedics degree. During this time, I also passed the boards to become a certified orthopedic assistant and certified surgical first assistant.

As previously mentioned, I am a lifelong learner who hopes to help others achieve their dreams by becoming a certified physician assistant; and as stress-free as possible! Best of luck to all on this journey!
Hobbies
I love being outdoors and staying active, as well as reading and staying up-to-date with information. Helping other people is why I became a physician assistant and I hope to pass this specialty on to others as well :)
Tutoring Subjects
PANCE - Physician Assistant National Certifying Examination
Professional Certifications