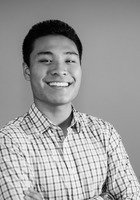 Hans
Certified Tutor
I am a tutor with six years of experience tutoring students from high school to college graduates in writing, reading, mathematics, LSAT, and history. I am an independent editor and writing tutor for the University of Utah's Writing Center. I founded the University of Utah Prison Education Project, a program that offers college courses in Utah state prisons, where I have served as a TA and tutor in courses from anthropology and history to writing and college-level mathematics. I received a 5 on AP Calculus, AP US History, AP US Government, AP English Literature, and AP English Writing and Composition. I serve as an educational mentor with the Vine Institute, a program that offers leadership and writing courses to refugees from across the world. I am patient and diligent as a tutor and committed to meeting each student where they are, helping them to identify their weaknesses and strengths to maximize their academic success. I am headed to the Washington University School of Law in Fall 2021.
Education & Certification
Undergraduate Degree: University of Utah - Bachelor in Arts, History
Test Scores
ACT Composite: 32
ACT English: 35
ACT Reading: 35
SAT Composite (1600 scale): 1480
SAT Subject Test in Literature: 690
SAT Subject Test in U.S. History: 710
SAT Subject Test in World History: 770
Hobbies
I enjoy mountain biking, skiing, tennis, basketball, reading history books, and watching documentaries.
Tutoring Subjects
Admissions
Adult ESL/ELL
Adult Literacy
AP Comparative Government and Politics
AP US History
Business
Business Writing
CLEP Prep
CLEP Humanities
College Application Essays
College English
College Government
College Level American History
College Level American Literature
College Political Science
College World History
COMPASS Prep
COMPASS Reading
COMPASS Writing Skills
Conversational Mandarin
Elementary School English
Elementary School Math
Elementary School Reading
Elementary School Writing
Expository Writing
GED Math
GED Social Studies
High School English
High School Government
High School Level American History
High School Level American Literature
High School Political Science
High School Writing
IB Global Politics
Logic
Mandarin Chinese 3
Mandarin Chinese 4
Middle School English
Middle School Reading
Middle School Reading Comprehension
Middle School Social Studies
Middle School Writing
Other
Political Science
SAT Subject Test in Chinese with Listening
SAT Subject Test in World History
SAT Subject Tests Prep
Social Sciences
STAAR EOC Prep
Thesis Writing
US Constitutional History