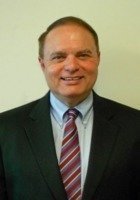 James
Certified Tutor
As soon as I took my I took my first economics course at Lafayette College, I knew that it was the subject in which I wanted to major. At Lafayette, I was able to augment my economics studies with multiple accounting and finance courses. I then went on to pursue an MBA at Rutgers University, where I studied finance, management, marketing and real estate. After Rutgers, I spent a summer at the Asian-Pacific Management at the University of Hawaii, where I studied another interest of mine, international business. I later earned second post-graduate certificate in international business at Georgetown University.

My first position after graduate school was as a commercial real estate broker with a firm now known as CBRE. After 14 years at CBRE, my finances were starting to get fairly complicated, so I decided to study to become a Certified Financial Planner, in order to manage my personal finances. I went through the College for Financial Planning's program in near record time and passed the CFP Board Exam on my first attempt in 1998. In order to better understand our tax code, I became an Enrolled Agent in 2011. In 2016, I passed the FINRA Series 6 and 63 securities license exams and, in 2017, I earned a Virginia Life and Health Insurance License. I also hold both Virginia and Maryland real estate salesperson's licenses.

As you can see, I have studied a very wide spectrum of business and finance-related subjects. Since 2010, I have been a part of the University of Virginia's Certified Financial Planner program. I am very proud to say that over 40 of my former students have passed the CFP Board Exam on his or her first attempt. In addition, I have taught at Northern Virginia Community College in a pilot program which sought to prepare candidates for the Special Enrollment Exam, the test for becoming an EA, through the community colleges. So much for my academic background and work experience.

What is my teaching philosophy? First, I am a people person. I seek to connect with my students in a way that no automated learning system can. Second, I like to draw on the depth and breadth of my experiences to explain a concept and very often by tying together several seemingly unrelated concepts and using an historical perspective. I don't just want my students to memorize things, I want them to understand why these things exist. Third, and most importantly, I have spent my entire life, both my career and my extensive volunteer work, with one goal in mind, helping others. Nothing makes me happier to have the opportunity to help someone else. I take pride in my students success and their advancement.
Education & Certification
Undergraduate Degree: Lafayette College - Bachelor in Arts, Economics
Graduate Degree: Rutgers University-Newark - Masters in Business Administration, Business Administration and Management
Hobbies
My main interests are travel, (I have visited all 50 states and 37 foreign countries), listening to music, hiking, biking, skiing and sailing. And, of course, watching Jeopardy! every day. I've always have been interested in history and technology and especially the history of technology. And for my entire life, I have followed the automobile industry very closely, from a standpoint of both technology and commerce. I volunteer for multiple organizations and I donate whole blood, plasma and platelets, for chemotherapy patients.
Tutoring Subjects
Adult Literacy
Business
CFP
College Economics
Financial Accounting
High School Business
High School Economics
High School English
Managerial Accounting
Professional Certifications
SEE - Special Enrollment Exam