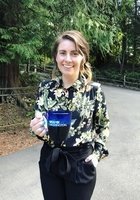 Annalisa
Certified Tutor
Has a teacher ever admitted to being horrible at spelling? Well, they have now. In my classroom, we take ownership of our less keen abilities rather than let 'em get us down. We don't have to excel at everything to succeed in life, and the same goes for school. In fact, mistakes are evidence of trying, and trying helps us discover those unique strengths that give us an edge.

Writing is my all-time favorite subject and I love to help my students become confident writers, too. Thesaurus.com and spell check are certainly must haves, but above all else, it's about leveraging our interests, perspectives, and personalities to bring our writing to life! This applies to math as well. and social studies, and, science. I can't wait to show you how it is done!
Hobbies
I love adventuring with my 3-year-old Oakley, watercoloring, playing with my kitten, and kicking back in my patio garden.
Tutoring Subjects
Elementary School
Elementary School Math
Elementary School Reading
Elementary School Writing
High School Writing
Middle School Writing
Other
Professional Certifications
Study Skills
Study Skills and Organization
WEST-B