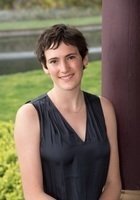 Evelyn
Certified Tutor
As a recent Summa Cum Laude graduate of Lewis and Clark college, I would like to share the knowledge that my education has given me through tutoring. I have always been a curious student, asking questions and digging for satisfying answers to make sure that I fully understand the content of my classes. I would bring this thorough understanding of topics, along with an understanding of how to provide complete and accurate explanations to a tutoring position.

I have experience as a teaching assistant for physics labs, demonstrating that I can answer questions, relate to students and provide technical knowledge. I am an approachable, patient person, which allows me to make connections with students and ensure that they feel comfortable expressing when they are confused and what they need help with instead of feeling intimidated.

As a physics major, I have knowledge in the sciences, but my liberal arts education has allowed me to refine my reading, writing and language skills. I studied abroad for a semester in the Dominican Republic, as well as participated in two language immersion programs in Guatemala, providing me with fluent Spanish skills as well as knowledge of the grammar.

I would love the opportunity to work with students one on one to improve their understanding of certain subjects they are struggling with. I am currently taking a gap year before starting a Masters in Mechanical Engineering, allowing me to have an extremely flexible schedule, with many hours available to dedicate to tutoring.
Hobbies
Environmental Engagement, Ultimate Frisbee
Tutoring Subjects
College Physics
High School Writing
MATLAB
Middle School Writing
Music
Photoshop
Piano
Spanish 1
Technology and Computer Science
Thermodynamics