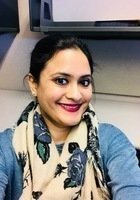 Anu
Certified Tutor
I am a surgeon-turned-scientist with 13 years of experience teaching. I teach students from high school to doctorate level students. I also teach pre-dentistry and pre-medicine students as well as the students who are enrolled in Dental and Medical schools.

I am a licensed Surgeon but I only use my expertise to train and tutor budding Med School and Dental School students subjects such as anatomy physiology, microbiology, pathology, pharmacology, radiology and many more.

I am a professional Mathematician and Statistician along with rigorous expertise in Public Health and Epidemiology. I am proficient in Statistical Analysis Programming languages such as SAS, SQL, and others such as Tableau, PowerBI, SPSS, and intermediate to advanced MS Excel.

I am also an expert in all the ranges of Biology, Chemistry and certified in English teaching. I am fluent in four languages including Hindi, and National award winner for fluency and performance in Sanskrit.
Education & Certification
Undergraduate Degree: Foreign University - Bachelor of Science, Predentistry
Graduate Degree: University of Southern Mississippi - Master in Public Health, Public Health
Hobbies
In my spare time, you will most likely find me reading on my Kindle, or cooking food or having a good run at the running track.
Tutoring Subjects
Art
Cell Biology
Computer Programming
Endocrinology
Epidemiology
Graphic Design
High School Biology
Hindi
IB Classical Languages
Medicine
Pathology
Productivity
SPSS Statistic Software
Tableau
Technology and Coding
Virology
Visual Arts