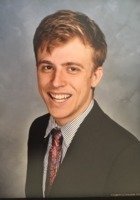 Simon
Certified Tutor
I am a graduate of Washington University in St. Louis. I earned a Masters of Science in quantitative finance and a Bachelor of Arts in economics, with minors in mathematics and history. My tutoring experience includes mostly mathematics, with students ranging from elementary to college. I love watching students gain mastery of their subject material and applying their studies to everyday situations.
Test Scores
ACT Composite: 31
SAT Composite (1600 scale): 1540
SAT Math: 790
Hobbies
In my free time, I enjoy practicing Brazilian Jiu-Jitsu and bicycling.
Tutoring Subjects
Business
High School Economics
HTML
Java
JavaScript
Macroeconomics
PHP
SQL
Technology and Coding