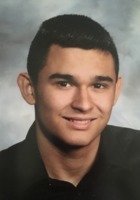 Brandon
Certified Tutor
The doctors knew that they could not help him anymore. His cancer had metastasized throughout his whole body. There were no more possible treatment options. We stayed with him all night as he slept, his life slowly fading away. I remember being in the room with himmy uncleholding his hand and providing comfort in any way I could. At 20 years of age, I was naIve about such circumstances. I did not understand the death sentence that cancer could beand that this was the last time I would see my uncle, forever. I was so concerned about school and about how well I needed to do on y exams in order to make it into medical school that I did not cherish the last few moments of my uncles life. I kept telling myself that I would see him again tomorrow and the day after. One doesnt realize how suddenly life can be lost until he or she encounters the loss of a loved one.

As my uncle lay in agony, there on his death-bed, he told me to one day help people like him. His words melted my heart, but my desire to become a physician was immeasurably strengthened and solidified. I realized that my true path to living a fulfilled life lay in learning how to treat and cure illness and to alleviate suffering. My mother has helped me sustain my passion for medicine: she has allowed me to shadow her, to see her patients, and to engage in medical conversation and reflection. Having her as a role model has increased my confidence in knowing that I have the ability to endure the challenges of daunting career path. I am a dedicated, committed worker, and I have an enduring passion to learn about the practice of medicine. This is why I matriculated into a masters program in biomedical sciences after graduating from college. This program has allowed me to see all the knowledge I have acquired through a larger scope. I have learned through dedication and commitment how the body works and how it relates to what I have read from a textbook. My drive to become a physician has flourished through the program. Even though my pre-med years have been extended, I remain enthusiastically committed to becoming a doctor. I continue to find the secrets of the human body mystifying. I see osteopathic medicine as a wonderful approach to manipulating the body through means that are natural. Osteopathic physicians trust the body for the miraculous thing that it is. Doctoring is about seeing a patient as a person rather than just a malfunctioning complex of systems. The vision of and respect for the body that I share with Osteopathic medicine suggests to me that I can find a real home in the profession. Coupling knowledge with people, making lives better, enhancing quality of life, and providing treatment for the ill are the shared desires I have with medical professionals.

The dignity required to preserve life and the knowledge needed in order to understand the mechanisms of disease are what I did not have at the time of my uncles death. I felt useless at his side; but I learned, too, that one day I would be equipped with the knowledge to help others like him.
Hobbies
stocks and real estate
Tutoring Subjects
African History
AP Seminar
BASIC
Cardiology
Cell Biology
Civics
CLEP Prep
CLEP Biology
CLEP Introductory Psychology
CLEP Introductory Sociology
Clinical Psychiatry
Clinical Psychology
College Biology
College English
College Math
Cosmology
Ethics
High School Biology
Histology
Law
MCAT Biological and Biochemical Foundations of Living Systems
Medical Terminology
Medicine
Molecular Biology
Other
PCAT Biology
Plant Biology
MCAT Psychological, Social, and Biological Foundations of Behavior
Social Sciences
Technology and Coding