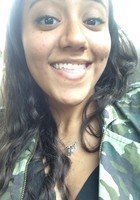 Mariana
Certified Tutor
My name is Mariana, I specialize in tutoring maths and sciences and have been working as a tutor since 2014. I am interested in eventually earning a degree in Medicine, but I am currently pursuing a Master's degree in Biomedical Engineering. I graduated from Florida International University with a BS in Biological Sciences and a minor in Chemistry. Prior to that, I attended the Maritime and Science Technology Academy High School in Key Biscayne and the High School Careers in Medicine Summer Program at the University of Miami. Therefore, I have good amount of experience regarding these subjects as well as tutoring them.

Both in during high school and college, I have excelled science courses as including AP Biology and Chemistry, Genetics, Ecology, Biochemistry, Anatomy and Physics to name a few. I am also able to tutor in English, particularly focusing on rhetoric and essay writing. In fact, I am currently a Modeling Physics Learning Assistant at Florida International University. I have participated in a Student Learning Methods course at FIU to improve my approach to teaching.

I like to devise my lesson plans depending on the specific needs of every student and may or may not assign homework or tests depending on what we decide together.
Test Scores
ACT Composite: 30
ACT English: 31
ACT Reading: 31
SAT Composite (1600 scale): 1510
SAT Math: 710
SAT Verbal: 750
SAT Writing: 720
GRE Verbal Reasoning: 165
GRE Quantitative Reasoning: 162
GRE Analytical Writing: 4.5
Hobbies
Soccer, Painting, Drawing
Tutoring Subjects
College Biology
College Chemistry
College Physics
Conversational Spanish
High School Biology
High School Chemistry
High School Physics
Other
Professional Certifications
SAEE - The Special Agent Entrance Exam
Spanish 1
Study Skills
Study Skills and Organization
What is your teaching philosophy?
My approach to teaching is very flexible. I believe that the focus is primarily on the student and what works for them individually, since everyone learns in different ways. I am also a big proponent for hands-on learning or learning through practice rather than mainly relying on lecture.
What might you do in a typical first session with a student?
In the first session with a student, I typically like to get the bearing of their knowledge and how well they grasp different concepts so that I can know what areas we need to focus on going into the future.
How can you help a student become an independent learner?
I can help a student become an independent learner by showing them techniques that I used as a student and guiding them without allowing them to completely rely on my presence as an instructor.