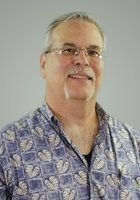 Mike
Certified Tutor
Passion energizes my teaching philosophy. I want to help you succeed whether you want to deepen your knowledge of politics and government or develop your critical thinking skills, enhance your reading, writing, and research skills. I also work with students who want to practice their conversational and written Spanish.

For non-native English speakers, I can help you deepen your English skills from common street slang where you learn to "speak like an American" to academic reading and writing which can place you in college level classes at our local colleges and universities.

I teach college level ESL and social sciences at Tacoma area colleges and cover the following subjects: American Government and politics, civics, history, social theory, and academic reading, writing and research. I actively perform qualitative research.

Let me help you succeed!

Hobbies
Cycling, reading and following political events
What might you do in a typical first session with a student?
I would get to know the student and see what their goals are so I can address their concerns to help them meet their goals.
How can you help a student become an independent learner?
Helping students take the mystery out of reading. Students are empowered once they learn how to read academic works.
How would you help a student stay motivated?
Give students the skills to master reading, writing, speaking, listening, or any academic subject we work on together.
If a student has difficulty learning a skill or concept, what would you do?
Find out what the reason the student doesn't understand the concept. Once I know the reason, we can alter the lessons to meet the student's needs.
How do you help students who are struggling with reading comprehension?
Show them how to read academic work. Academic reading is not passive reading such as when we read a novel. It is active reading with a different focus. I use Reading Apprenticeship techniques in my classes. The results are amazing when students learn how to engage a text.
What strategies have you found to be most successful when you start to work with a student?
Making sure the students know how to read academic work sets the stage for success in their respective subjects. As stated in the prior question, Reading Apprenticeship has many different techniques to help students learn to effectively engage the texts.
How would you help a student get excited/engaged with a subject that they are struggling in?
Engagement correlates to a feeling mastery. It has been my experience that once a student no longer feels intimidated by the material, their excitement and engagement towards it increases.
What techniques would you use to be sure that a student understands the material?
Questioning the student over various aspects of the material. I find the Socratic method works well, too. Also, I will ask the student to explain how the material relates to their everyday life. Making personal connections not only helps to reinforce the material, but demonstrates a working knowledge of it.
How do you build a student's confidence in a subject?
Students build their own confidence as they master the material. I see myself as a coach rather than as a teacher. Reassurances also help students build confidence.
How do you evaluate a student's needs?
It depends on the subject. If it's history, Spanish, or political science, then a conversation about what the student wants to accomplish. Short evaluations can also help me see where the student should start.
How do you adapt your tutoring to the student's needs?
Each student is different. Understanding what the student's goals are allows me to adapt for their needs.
What types of materials do you typically use during a tutoring session?
It really depends on the subject. As a contributor to textbooks on American Government, I have a collection of texts. I also participate in the open education resource movement and have access to open source history texts and documents.
What is your teaching philosophy?
Today's students bring a variety of ages, life experiences, as well as learning styles to the classroom. But, regardless of their respective backgrounds and abilities, all students learn the best when actively engaged. Students should take responsibility for their learning. My responsibility is to create the environment for active and effective learning. Really, I like to describe myself as facilitator rather than teacher. Esoteric theoretical concepts became tangible items which enabled them to learn more easily. Games, case studies, collaborative exercises, simulations and other learning activities are excellent tools to create informed discussions and help students internalize dry theoretical ideas into concrete terms students can relate to.