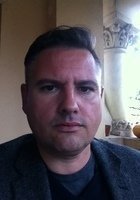 Emil
Certified Tutor
For me, the teaching profession is a noble pursuit, full of challenges, risks and tremendous rewards. Its a vocation, not merely a job. My views about teaching were shaped by my unique background. You see, my name is Romanian. Until the age of fifteen, I lived in Eastern Europe under a form of communism and Nicolae Ceausescus draconian policies such as strict conformity to ideas dictated by the Party; severe economic policies that led to extreme consumer goods shortages, even for basics like water and electricity. Because everything around me was bleak and false, I looked for truth like water and sun. I helped my father build an antenna that allowed us to watch forbidden television programming from more liberal Bulgaria, only forty miles away from my home town of Bucharest. The early exposure to the Slavic language of Bulgarian became a passion for Russian literature many years later while working as an American English teacher in Ukraine. We risked arrest for truth and objective information by tuning our primitive AM radios to clandestine radio stations from the West like Voice of America. This early experience turned me on to research and building persuasive, evidence-based arguments in college essays. It was an exciting time because I was truly challenged to find out about the world. I hope to bring this excitement about knowledge and the world to my students writing and language pursuits.

What type of teacher am I? I define myself as a teacher who works hard for his students and likes to challenge them in creative ways. I always try to find better ways of imparting knowledge, whether its literature, essay writing, Russian or ESL. I constantly evaluate myself and adjust the approach accordingly. I encourage my students to be honest with what is working or not with their education. I want to get things done scientifically. Consequently, I do my research by consulting the best and latest information on the specific subject. I am a tireless editor of my own work (I dont claim to be perfect, however!) I love to give specific feedback so the student has a clear idea whats expected of him or her. I like thought-provoking ideas and questioning the status quo, no doubt due to the lack of freedom I experienced during those interesting Romanian years. In a recent class I asked students to critically express their views of the current election. In another class I addressed censorship in the arts by using famous artists: why is certain language or image more accepted than other forms? What is culture telling you, and is this truth written in stone? Or are there blind spots people are ignoring? How dangerous is this attitude for our society and the world? I like students who are not afraid to ask the hard questions and look at the world from different perspectives. I dont think there is one ultimate answer or truth. I want to open the students to a wider world and make them aware of the larger context, outside their comfort zone.
Hobbies
accoustic and electric guitar, running, art making, classical literature, foreign languages, travel, organic farming, European soccer leagues, geology, autobiographical writing, translation
Tutoring Subjects
11th Grade Reading
Adult Literacy
AP English Language and Composition
College English
Comparative Literature
Expository Writing
High School English
Middle School Writing
Persuasive Writing
Romanian
What is your teaching philosophy?
I believe myself to be a creative and experienced teacher. For example, I'm passionate about autobiographical writing, art history, art making, and music, as well as literature, history, philosophy, foreign languages, and pop culture. I use these personal interests in order to illuminate the problem or issue from different angles and hopefully turn a dry subject like writing or grammar into something more exciting and contextual to the world out there. If none of this works, I am quite receptive to the student's own interests and adjust my lesson plans accordingly. I respect any other individual approaches or passions (baseball, video games, social media, whatever) as long as they are likely to be effective for all parties involved. My biggest reward in teaching is to see students get it for the first time!
What might you do in a typical first session with a student?
I would first assess the student's needs. I don't want to bore them with something they already know, don't find interesting, or find too controversial. Then, I give them the overview of my plan. I clearly explain my expectations. Then, we practice and then practice some more with fun stuff until the issue has been resolved.
How can you help a student become an independent learner?
I ask them about themselves to understand who they are. Learning is a two-way street. I cannot force someone to learn if they are not interested. This way, the student taps into their existing knowledge and comfort zone to tackle something unfamiliar. I encourage them all the way with helpful feedback.