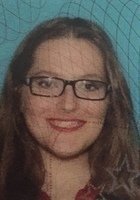 Lauren
Certified Tutor
Knowledge is power! I graduated from Parkway West High School in 2015. I am studying Business Administration at Flagler College in Saint Augustine, Florida. In high school I completed the Missouri A+ Program and tutored students as a member of National Honor Society. I have experience tutoring students in Algebra 2 and trigonometry and Spanish II. I tutor Spanish, math through Calculus 1, and English, math, reading, and science on the ACT.

Test Scores
ACT Math: 30
ACT Science: 31
Hobbies
Piano, reading, volunteering
What is your teaching philosophy?
Be prepared.
What might you do in a typical first session with a student?
I would get to know the student, introduce myself, find out what the student knows and does not know on the subject, make a plan, and begin helping the student.
How can you help a student become an independent learner?
I can let the student try an example on his or her own, and show him or her ways to double check the answer.
How would you help a student stay motivated?
I would ask the student about his or her life goals, and explain that each subject in school is like a stepping stone that leads to goals.
If a student has difficulty learning a skill or concept, what would you do?
I would be patient and help the student practice. Sometimes a short break or reviewing a previous topic can be helpful.
How do you help students who are struggling with reading comprehension?
I encourage students to read and understand one chunk of a passage at a time to help them comprehend other chunks of the passage. I ask guided questions.
What strategies have you found to be most successful when you start to work with a student?
I start with the foundation and something he or she is familiar with, and then build on top of what he or she knows. Listening to the student's problems and giving memorable examples are helpful.
How would you help a student get excited/engaged with a subject that they are struggling in?
I would give the student an example he or she can relate to in order to keep him or her engaged.
What techniques would you use to be sure that a student understands the material?
I would have a student explain the material to me as if I was a person who knew nothing about the material, and I would have them work a sample test without notes or help.
How do you build a student's confidence in a subject?
A student is confident when he or she is not guessing on the answer. He or she can become confident by practicing and knowing how to find the answer.
How do you evaluate a student's needs?
I evaluate a student's need by asking him or her what needs the most help first, and I can see what he or she needs help with by looking at mistakes on past assignments or study guides.
How do you adapt your tutoring to the student's needs?
I will modify my approach to best fit his or her learning style.
What types of materials do you typically use during a tutoring session?
I typically use a laptop, notecards, paper, and pencils during a tutoring session.