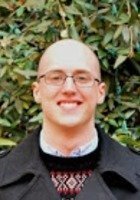 Malcolm
Certified Tutor
I am a teacher, translator, and communications professional who was born and raised in the Philadelphia area. I graduated cum laude from Temple University in 2012 with degrees in English and Italian. After graduation, I moved to Sardinia to teach English as a Foreign Language and work as a freelance Italian-to-English translator. Since returning to the United States in mid-2013, I have taught SAT Prep for a local nonprofit, worked as a copy editor for the Italian branch of Google Ads, and performed a year of national service with the City of Philadelphia through AmeriCorps VISTA. In Fall 2016, I will begin my JD studies at the Georgetown University Law Center, where I hope to focus on international and human rights law. I love using teaching to build relationships and share ideas with his students! Though I teach a wide variety of subjects and enjoy them all for different reasons, I feel most comfortable teaching test prep (SAT, GRE, LSAT) and TOEFL. My teaching approach is a combination of enthusiastic, friendly support and targeted, analytical skill development. I have two dogs: a black lab mix named Hank, and a Norwich terrier named Rufus.
Education & Certification
Undergraduate Degree: Temple University - Bachelors, English; Italian
Test Scores
LSAT: 167
GRE Verbal: 167
Hobbies
Boxing, Wrestling, Cooking, Crochet, Foreign Affairs, Reading
Tutoring Subjects
College English
Comparative Literature
Conversational Italian
High School English
What is your teaching philosophy?
I think that a good teacher should address not just the material being studied, but also the attitude towards studying in general. The way we approach our studies gives us the opportunity to sharpen our work ethic and self-esteem, as well as allowing us to develop a vision for our futures.
What might you do in a typical first session with a student?
In a first session, I think it is really important to get an idea of what the student's needs are. I like to perform some diagnostic exercises to identify strengths and weaknesses, and discuss with the student the trajectory that we would like our sessions to take.
How can you help a student become an independent learner?
For a student to become an independent learner, it is my job as a tutor to go beyond the classroom or test prep material we are covering and encourage them to develop a robust intellectual curiosity. Curiosity is the key to all independent learning.
How would you help a student stay motivated?
I think positive reinforcement is the key to keeping students motivated. That looks different for every student, but the essence is always the same: students should be rewarded for their hard work and advancement with recognition from their tutor.
If a student has difficulty learning a skill or concept, what would you do?
This will vary by subject, but in general, I find that the best way to make a concept more understandable is to parse it into smaller pieces. By examining the individual components of a concept or skill, and making helpful comparisons to previously learned material, the student will start to see the bigger picture.
How do you help students who are struggling with reading comprehension?
Reading comprehension issues typically stem from one or both of two sources: unknown vocabulary and drawing inferences. Both of these must be addressed to improve the student's skills. I like to practice vocabulary with lexical sets and etymology, which helps the student cast a wider net in determining the meanings of unfamiliar words. And I find that reading comprehension can be improved with critical thinking exercises using quotes to spark a line of logical reasoning. If the student becomes more comfortable interrogating the information in front of them, their comprehension will improve.
How would you help a student get excited/engaged with a subject that they are struggling in?
Excitement and engagement can be stimulated by attaching goals and achievements to the material being studied. If a student has an exam hanging over her head, then studying becomes a dreaded exercise. But if, instead, that same student sets a target grade or threshold that she wants to achieve on that exam, then it becomes almost like a game.
How do you build a student's confidence in a subject?
Positive reinforcement. Walk with the student every step of the way through the material, and let them know when they've made progress! The tutor should be the student's number one fan.