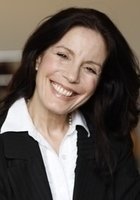 Celine
Certified Tutor
Through my lifelong professional experience in the communication, art, and cinema industry, as well as becoming a successful published author, I have acquired indispensable skills and experiences, highly relevant to teaching the French Language with a focus on culture, listening, speaking, reading, and writing. From beginners to advanced students, I welcome you to a world of learning cultural discoveries in a style that is modern and fun. French culture, music, cinema, art and literature are brought to life by the romantic blend of several element including the excitement of a new adventure beyond the sheltered world of a classroom. Learning to speak another language can be a slow, often frustrating process, but ultimately rewarding! Are you ready to get on a plane for the French adventure?

What is your teaching philosophy?
Being guided by exceptional instructors, students, beginners and advanced, are willing to understand the reasonable challenges, and willingly engage in activities they consider achievable. My approach is to provide the student with the skills and accuracy in conversational and written French, without overwhelming them throughout their learning process. Inspire, motivate and guide.
What might you do in a typical first session with a student?
Assess level of competency and fluency: ~ find the student's future goals ~ tailor a teaching style that motivates and suits the student's comfort level ~ align personal interests for motivation ~if the student is ready , focus on structural markers, for example masculine versus feminine
How would you help a student stay motivated?
1. Give reasonable challenges. 2. Apply and discuss new activities that allow the student to explore their outside interests, hobbies, sports, music, etc., and tailor teaching in relation to their passions in their own learning style. 3. Encourage students, and keep it as natural and simple as possible.
How do you help students who are struggling with reading comprehension?
Verify that the activity is not too complex for the student's current ability. Assess if the student is well prepared for such activity. Focus on problem solving, correcting as we go, providing positive feedback.