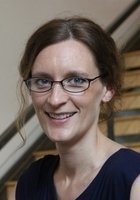 Kathryn
Certified Tutor
I am a professional educator and language enthusiast with a Ph.D. in History, an M.A. in Latin American Studies, and a B.A. in Spanish and International Relations. I have studied, lived, and worked in Costa Rica, Nicaragua, Bolivia and Germany and bring my passion for history, language, and travel to my tutoring and teaching.

As an instructor for the History and Spanish & Portuguese Departments at the University of Arizona, and as a freelance English teacher in Germany, I have taught students of all ages, backgrounds, and interests for over a decade. In the history classes I teach, I ask students to think about how global developments in politics, economics, and science have shaped the lives of individuals and societies throughout time. In Spanish, German, and English language courses, I strive to build students' confidence and make communicating in another language fun! I particularly enjoy tutoring because it allows me to tailor the session to meet students' unique needs.

When I'm not tutoring, I'm writing histories of midwifery and obstetric medicine in Bolivia, translating academic works from German to English, and learning Mandarin. You might also find me climbing rocks on Mt. Lemmon, practicing yoga, or taking very slow, very short "runs" around my neighborhood. I love cooking while listening to podcasts. In my next life, I'd like to be a musician.

Hobbies
rock climbing, yoga, reading, cooking
Tutoring Subjects
College English
College Level American History
Conversational German
Conversational Spanish
German 1
German 2
German 3
German 4
High School English
High School Level American History
Spanish 1