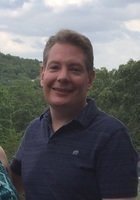 Kevin
Certified Tutor
As a Mensa member, CPA (Certified Public Accountant), MBA and inventive Patent Holder with the US Patent Office, I know that learning is a great investment. My passion for teaching comes from a life long passion for learning. Im a Masters Degree graduate of Washington University in St. Louis (Olin School of Business: Finance emphasis) and also received my Bachelor of Science in Accounting from Truman State University. Both students and parents say that I help students succeed and realize their own potential with improved confidence, grades and test scores.

Because I have over 20 years of "real life" professional experience and have traveled extensively, I am able to provide you real life examples to help understand the value of learning the topics I tutor you with. I specialize in tutoring a broad range of subjects with a focus on math, science, history, government, geography, accounting, finance and related business topics. One of my goals for each tutoring session is to keep the student engaged and challenged yet not overwhelmed. I use a number of teaching methods, including practice questions and topical computer related tools.

I often ask for feedback and appreciate candid communication. I try to be flexible with my time. To ensure that we have a quiet and comfortable study space, I work with the student to help select mutually convenient locations.

In my spare time, I enjoy biking, hiking, swimming, tennis, reading, movies, traveling, spending time with my family and our dog.

I look forward to hearing from you and helping you achieve more confidence and success.

Hobbies
I enjoy biking, hiking, swimming, tennis, reading, movies, traveling, spending time with my family and our dog.
Tutoring Subjects
Business
College Accounting
Cost Accounting
Cost Analysis
CPA
Elementary School Math
Financial Accounting
High School Accounting
High School Business
Intermediate Accounting
International Business
Management
Managerial Accounting
MBA
Other
Personal Finance
Professional Certifications
Series 24
Series 3
Series 30
Series 6
Series 63
Series 65
Series 66
Series 7
Series 79
SIE
What is your teaching philosophy?
My philosophy is to teach the big picture "why," so you can see the value for the concept, and then I'd teach the "how" of the steps.
What might you do in a typical first session with a student?
First, I will learn from the student by asking about their goals, current way that their professor/teacher is communicating (syllabus, course notes, presentation slides, textbook and etc.), plus their previous educational experiences and what's worked best for them previously. Then I tailor an approach that best meets their goals and learning objectives to either "fill in" the gaps or complement what their professor/teacher has taught.
How can you help a student become an independent learner?
I help students become independent learners by providing the tools to first understand how to determine "why" something is done and then helping them find and/or create the best method of "how" to accomplish the goal with what's best for them personally.
How would you help a student stay motivated?
To help a student stay motivated, I break the teaching into small steps so that they can get quick successes and build their confidence, which helps maintain motivation.
If a student has difficulty learning a skill or concept, what would you do?
To help a student who has difficulty learning a skill or concept, I work to understand whether they learn best with specific examples, analogies, pictures, role playing, or etc. I then change or add another teaching method to help them learn the skill or concept.
How do you help students who are struggling with reading comprehension?
To help students with reading comprehension, I break down the material into smaller easier to understand components and help them keep in mind the broader fundamental concepts.
What strategies have you found to be most successful when you start to work with a student?
The strategies that I've found to be most successful when starting to work with a student are to understand the current goal/need (i.e., to learn a concept, pass a class, complete a specific assignment or series of assignments) and then tailor a learning style that's best for them individually to successfully achieve the goal.
How would you help a student get excited/engaged with a subject that they are struggling in?
To help get a student excited/engaged with a subject, I work to help them see the big picture value of how this can help them with not only the class but also other areas of development (including their family, interactions with friends, and career goals).
What techniques would you use to be sure that a student understands the material?
Many times I reiterate the big picture basic concepts that are needed for the course, and ask them questions to help them demonstrate their understanding.
How do you build a student's confidence in a subject?
To build a student's confidence, I break the leaning steps into small steps that are easier to achieve, and then praise them when they demonstrate a grasping of the concept.
How do you evaluate a student's needs?
To evaluate a student's needs, I ask them questions to understand the current requirements to successfully complete their course/assignment, and also their reasons for seeking a tutor.
How do you adapt your tutoring to the student's needs?
I ask about their background, goals and hopes. Then I tailor our agreed tutoring approach to meet those goals and hopes.
What types of materials do you typically use during a tutoring session?
I use real life examples, online resources, the provided course materials and any other relevant information.