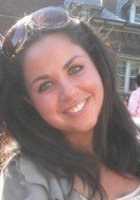 Lexi
Certified Tutor
I am a recent graduate of Princeton University (2011) and am originally from Long Island. My lifelong interest in foreign cultures and languages led me to pursue a Bachelor's degree in Comparative Politics and certificates in Near Eastern Studies & Arabic Language/Culture, as well as multiple trips abroad for language immersion and research. I am passionate about education and believe strongly in academic success as a platform for personal growth and self-esteem.
My tutoring experience began in middle school as a reading helper to children for whom English was a second language (ages 5-10). I continued to tutor throughout middle and high school as a 'homework helper' for kids with behavioral and developmental challenges, which required that I teach a range of subjects at various levels with personalized approaches for each student (ages 9-13). While in high school, I completed a challenging AP curriculum and tutored my peers in Biology, Psychology, English, Spanish, and Government at the AP level. As a junior/senior, I also helped prepare students for PSAT/SAT & SAT subject tests as a recommended peer tutor through my school's guidance department (ages 15-17).
I have always been an avid reader, which, I believe, has helped me develop an innate understanding of grammar. I love helping students with reading, English language and literature, and writing particularly around college applications, admissions essays, and SAT preparation. I have extensive experience tutoring foreign languages through my work as a Spanish & Arabic tutor at Princeton and through language exchanges completed while studying abroad in Mexico and Egypt (ages 18-30). I believe that learning a foreign language is hugely rewarding for students of all ages and welcome opportunities to tutor in Spanish or Arabic (or just to chat!) at all levels.
I hope to work with you to develop the approach that works best for your learning style. I always adapt my plans to suit an individual student's needs and interests, keeping in mind that the best I can do for any student is to engage them with the material and help them develop self-motivation. I am, admittedly, challenging and will push you not just to get the right answer, but to understand the material at hand. Looking forward to potentially working with you!


Education & Certification
Undergraduate Degree: Princeton University - Bachelor in Arts, Politics, Near Eastern Studies, Arabic
State Certified Teacher
Test Scores
ACT Composite: 33
SAT Composite (1600 scale): 1550
SAT Math: 720
SAT Verbal: 770
SAT Writing: 800
GRE Verbal: 170
Hobbies
International Politics, Social Justice & Activism, Salsa Dancing, Horseback Riding, Piano
Tutoring Subjects
College Biology
College Level American History
Elementary School Math
High School Biology
High School Level American History
Music
Other
Piano
Spanish 1
Summer