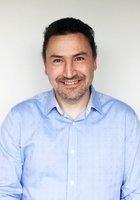 Jaroslaw
Certified Tutor
My name is Dr Jaroslaw R. Jarzynka I offer EXPERT LEVEL ONLINE MATHS PHYSICS and ENGINEERING TUTORING at all academic levels. I specialise in GCSE, International Baccalaureate (IB), A-level, Highers and Advanced Highers, SAT, GRE, MAT, BMAT including University exams preparation.
I'm a professional, fully qualified university lecturer, an active theoretical physicist and passionate tutor. I have been providing effective, friendly and highly personalised online tutoring for over 33 years, teaching to the student's strengths and minimising the student's weaknesses.
I focus on delivering holistic and personalised learning experiences. My idea of tutoring is not just about teaching maths and physics online; it's about growing and developing individuals into self-confident and creative problem solvers. I work tirelessly to create new experiences and challenges for my students to keep them engaged and passionate about their on-line maths and physics experience.
If you feel that professionally tailored to you online instruction or homeschooling is something you or your children could benefit from, please contact me now.
Tutoring Experience
Apart from many years of maths, physics and engineering teaching online and at renowned private high schools, I am a university lecturer with over 10 years of work experience. My professional sophistication spans over a broad spectrum of academic needs from tutoring friends and family for their IB Diploma and Oxford entrance exams to advising and supervising BSc, MA's, MSc and PhD students at Heriot-Watt and Edinburgh Universities. Over the past 33 years, I have built a private tutoring portfolio helping students of various levels and backgrounds ranging from prestigious boarding schools and colleges such Eton, Fettes, Winchester, Stewart Melville and St George's School, to the UK and the USA universities including the elite MIT and Stanford. I offer professional, extensive and up-to-date knowledge of science forged to an expert level during my own scientific research, and experience of working with students gained at a variety of educational establishments which allows me to provide effective tutoring of students at all academic levels.
Tutoring Approach
I see my students as bright individuals. I make myself available and approachable to them. During online and in-person classes, I extend to them the courtesy and respect for their ideas by asking for their input on how to proceed with a problem and always building a solution based on their answers. My teaching begins before the online tutorial by preparing myself and materials for my students. Guided by the syllabus I created for the student and the related parts of the course texts, I prepare each tutorial as a series of written notes where I include multiple and varied examples for each concept. I always select examples first for their usefulness in understanding the topic, and second as examples of how to work through the problems. I also seek to create a graded series of examples that show the possible difficulties in applying a method. Finally, I review each tutorial's topics to catch any possible mistakes and identify places where my students might require extra help, either through recalling a useful fact that we need to apply or through additional examples. I always encourage and welcome questions from my students. In doing so, I am emphasizing the importance of discussion and collaboration in mathematics and physics in general. If appropriate, I answer a student's question with an example and I invite them to help me work it out. My teaching doesn't finish after the tutorial, as I remind my students that I am available to them (by email or messengers) in the time between the tutorials and guide them to work they should do in their spare time. I show I am available by lingering after the end of the tutorial to answer immediate questions. And when students do contact me, I address their concerns directly and encourage them to work with me using internet communication to arrive at their answers. I don't need to mention that this courtesy support is completely free of charge.
Education & Certification
Graduate Degree: Heriot Watt University - Master of Science, Physics
Graduate Degree: Heriot Watt University - Doctor of Science, Theoretical and Mathematical Physics
Hobbies
Theory of semiconductors, numerical modelling, mathematical methods of physics.
Tutoring Subjects
A Level Prep
A Level Mathematics
A Level Physics
A Level Polish
A Level Statistics
ACCUPLACER Arithmetic
ACCUPLACER College-Level Math
ACCUPLACER Elementary Algebra
Algebra
Algebra 2
AP Calculus AB
AP Calculus BC
Applied Mathematics
Calculus
Calculus 2
Calculus 3
CLEP Prep
CLEP Calculus
CLEP College Algebra
CLEP College Mathematics
CLEP Precalculus
College Algebra
College Physics
COMPASS Mathematics
Differential Equations
Electromagnetism
Elementary School Math
GCSE Prep
GCSE Mathematics
GCSE Physics
GCSE Statistics
GED Prep
GED Math
Graduate Test Prep
GRE Subject Test in Mathematics
GRE Subject Tests
High School Physics
IB Further Mathematics
IB Mathematical Studies
IB Mathematics
IB Physics
College Math
Languages
Linear Algebra
Math
Middle School Math
Middle School Science
Physics
Polish
Pre-Algebra
Pre-Calculus
PSAT Mathematics
Quantum Mechanics
Quantum Physics
SAT Subject Test in Mathematics Level 1
SAT Subject Test in Mathematics Level 2
SAT Subject Test in Physics
SAT Subject Tests Prep
Science
Test Prep
Trigonometry