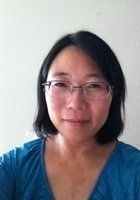 Charlene
Certified Tutor
I am a graduate of Amherst College with a major focus in political philosophy. In high school, I was the recipient of the Continental Mathematics League award and earned a near perfect score on my math SATs. I have instructed students 2nd through 12th grade at a math tutoring center where I acquired a variety of methods for teaching math skills and numerical fluency. My personal strength is in identifying an individual's challenges and figuring out an approach that will work with that person's style of thinking. I excel at making math fun and interesting for students. I am also conversational in Spanish. In my spare time, I enjoy hanging out with my kids, hiking, watching movies, listening to podcasts and playing with our new cat.
Education & Certification
Undergraduate Degree: Amherst College - Bachelor in Arts, Political Science and Government
Hobbies
Hiking, movies, travel
Tutoring Subjects
10th Grade
10th Grade Math
11th Grade Math
11th Grade Reading
12th Grade Math
12th Grade Reading
1st Grade Math
2nd Grade Math
3rd Grade Math
3rd Grade Science
4th Grade
4th Grade Math
5th Grade
5th Grade Math
6th Grade
6th Grade Math
7th Grade
7th Grade Math
8th Grade
8th Grade Math
8th Grade Reading
8th Grade Writing
9th Grade
9th Grade Math
9th Grade Reading
Adult Literacy
College English
College Math
Conversational French
Elementary Algebra
Elementary School
Elementary School Math
Elementary School Science
High School
High School English
Homeschool
Middle School Reading
Middle School Writing
Non-Euclidean Geometry
SAT Subject Test in Mathematics Level 1
SAT Subject Test in Mathematics Level 2
SAT Subject Tests Prep
Study Skills
Study Skills and Organization
Summer
What is your teaching philosophy?
My approach is to listen to where the student is at and try to work with them at their level and learning style. I believe that there are many ways to solve a math problem, and the best method is the one that works best for that individual. I also like to introduce easier methods of calculation and focus on the bigger concept rather than rote memorization. I believe that math can be learned at any level by everyone. If math isn't fun, it's just because something got in the way!
How can you help a student become an independent learner?
I think an important part of coaching is to not only instruct but also to step back and let students do problems by themselves, so they do not become conditioned to only do math with someone helping them.
How would you help a student stay motivated?
I believe that the greatest motivator is watching themselves be successful. So even if it is only a small success, play it up so they can feel proud of themselves!
If a student has difficulty learning a skill or concept, what would you do?
I try different approaches. Sometimes just asking the student what he or she is thinking can reveal what's blocking the way. Breaking it down into smaller pieces, until the student is able to understand even the most basic concept and taking small steps from there, usually works too.
How do you help students who are struggling with reading comprehension?
Vocabulary is often a roadblock to reading comprehension, and I will explain not only what words mean but also sentences and paragraphs. Then I let the student re-read that portion so they can see how it is interpreted.
What strategies have you found to be most successful when you start to work with a student?
Observing and listening are the best ways to get to know a student. If I step back and let them lead the way, they will usually either show in their work or just say what the problem is for them.
How would you help a student get excited/engaged with a subject that they are struggling in?
Small successes are always encouraging. Also relating concepts to the real world of science, geometry and physics can help them relate to math as a 'real' science.
How do you build a student's confidence in a subject?
Always start with what the student knows and bring that to their attention. They already know some things! Then highlight any success, no matter how minimal.
What might you do in a typical first session with a student?
I'd try get to know a little a more about the student, their interests, style and where they are coming from in terms of their academic challenges. Generally, but especially in the beginning, I try to approach questions in a collaborative style, working on each problem together.
What techniques would you use to be sure that a student understands the material?
Sometimes I use leading questions in a Socratic method; other times I use direct teaching. It depends on the student. I try to tailor the method to the individual student.
How do you evaluate a student's needs?
I start by asking the student what he or she needs. If they are not sure, I go over some problems with them and see if I can observe a pattern or issue that is coming up. Ultimately, it usually becomes clearer over time.