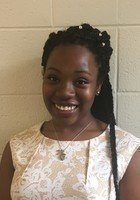 De Shanna: Osaka C++ tutor
Certified C++ Tutor in Osaka
...stem fields and high school level and below English and Spanish. My favorite subject to tutor is chemistry because it was my favorite subject in school. When tutoring I like to help develop the skills that students already have and help them fill in the gaps in their knowledge. Outside of school and work, I...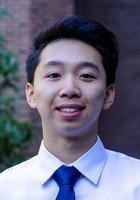 Bryan: Osaka C++ tutor
Certified C++ Tutor in Osaka
...Computer Science at the University of Pennsylvania. There are many challenges when it comes to learning new things, and I understand how helpful it may be to have someone with more experience guide you. I have had experience tutoring students for the SAT/ACT in the past, as well as leading coding workshops at local libraries.
Devon: Osaka C++ tutor
Certified C++ Tutor in Osaka
...it is one of my favorite things to do! I have years of experience with both in-person and online tutoring, and have taught as many as 30 students at a time in a physical classroom setting or as little as a single student for 30 minutes to several hours! I prioritize understanding over memorization, and...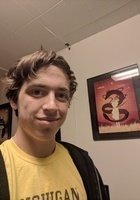 Dan: Osaka C++ tutor
Certified C++ Tutor in Osaka
...at the University of Michigan studying Aerospace Engineering. I tutor a variety of subjects, although I am most passionate about math and the sciences. I aim to teach both fundamental concepts and the ability to solve problems step-by-step with well-established methods. In my free time, I enjoy designing and flying high-power rockets competitively, playing the...
Nathan: Osaka C++ tutor
Certified C++ Tutor in Osaka
...with a family of school teachers and public school professional development figures, I have developed an interest in tutoring, research, and writing. After tutoring for about two years with Upward Bound and years of part time work with the educational development organization ALCA, I am now researching and writing a book on online political discourse,...
Cheuk Man: Osaka C++ tutor
Certified C++ Tutor in Osaka
...a graduate from Oregon State University with a Bachelor's degree in Mathematics. With years of peers tutoring through high school/college and over 1 year of professional tutoring, I am confident in assisting anyone who are interested in learning to excel in the subject of their interests. I mainly focus on Mathematics tutoring (HS, College) but...
Michael: Osaka C++ tutor
Certified C++ Tutor in Osaka
...have helped many of my classmates through math and computer science classes. I enjoy anything that has to do with physics, math, and computers. A little personal information about me. I was born at 26 weeks gestation, and because of that, have swam all of my life to stay healthy and fit. Swimming has been...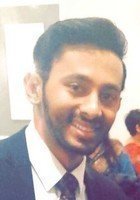 Ebin: Osaka C++ tutor
Certified C++ Tutor in Osaka
...have never before interacted with someone for two hour stretches in an academic setting. In addition, my pupil was in high school which elevates the challenge and required a more nuanced approach to deal with the complexities that often accompanies adolescence. To my surprise, I loved it. Not only was this an opportunity to review...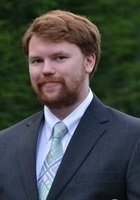 Matt: Osaka C++ tutor
Certified C++ Tutor in Osaka
...until they become intuitive. I believe that intuition is the key to long term command of a subject. A difficult problem becomes far more digestible when viewed from a new angle. Once an idea makes sense at its core, it is far easier to learn its nuances and develop strong habits for applying it in...
Private Online C++ Tutoring in Osaka
Receive personally tailored C++ lessons from exceptional tutors in a one-on-one setting. We help you connect with online tutoring that offers flexible scheduling.
Contact Varsity Tutors, and we can help you find C++ tutoring in Osaka. With a private tutor by your side, you can strive to improve your programming abilities in a more efficient, structured manner. Tutors can adjust to your needs whether you wish to learn about C++ as a personal endeavor or through an academic setting such as Osaka City University. During C++ tutoring in Osaka, you can have your needs catered to as you strive to improve your ability to use C++ syntax to complete tasks like calling a function, declaring a constant, and declaring an array.
Japan C++ tutors can provide you with more targeted learning, as you can prioritize areas of deficiency over areas you've already mastered, like the use of C++ for programming operations like recursion, multithreading, or preprocessing. Japan C++ tutors can recognize when you need to spend extra time to improve your understanding of concepts that aren't quite making sense for you, like sorting algorithms such as radix sort, insertion sort, or comb sort.
You can feel confident that your needs are being met when you work with an Osaka C++ tutor, whether you're an advanced programmer or someone who is new to C++. If you're working on basic concepts like whitespace, commenting, and compiling code, a mentor can slow the pace of your learning so that you can comprehend these foundational concepts more easily. An Osaka C++ tutor can also move through concepts at an accelerated pace if you're an advanced programmer who's looking for a greater challenge.
When you work with a C++ tutor in Osaka, you can also study through methods that match your learning style when reviewing topics such as working on projects in IDEs. As a kinesthetic learner, you can engage in pair programming alongside your tutor as you learn more about Eclipse. If you're a visual learner, graphs and charts can help you visualize Emacs. You can also engage in lengthy discussions with your C++ tutor in Osaka on Visual Studio Code if you're an aural learner.
You can have many opportunities to ask important questions during Osaka C++ tutoring. You can turn to your mentor for clarification whenever you're feeling confused by object-oriented programming principles such as classes, methods, and encapsulation.
A tutor can also use many different types of explanations to help you understand various concepts. If one type of explanation doesn't make sense at first, your tutor can approach the concept from new angles until you comprehend it fully. One method a tutor can use involves splitting complex concepts down into smaller, more manageable chunks that you can then tackle in a step by step manner.
Advanced C++ students can absorb plenty of new tricks and tips from an experienced, highly qualified personal instructor. These can involve optimized methods for writing more organized, easier to read code. These strategies can come in handy when you're trying to evaluate expressions with rational, arithmetic, or logical. Helpful methods such as these are difficult to learn when you're not working alongside an expert.
You can easily connect with your personal tutor through our Live Learning Platform. With features like real-time video chat, you can interact seamlessly with your mentor, ask questions, and experience a level of interactivity on par with a traditional learning setting. There's also a virtual whiteboard that helps your tutor use a variety of visual teaching methods to help you see various concepts in action. Another helpful feature is the fact that all study sessions are automatically recorded and saved. Because of this, you can refer back to key discussions you've had with your tutor at any time.
Contact Varsity Tutors today, and we can help you connect to Osaka C++ tutoring in as little as 24 hours.
Your Personalized Tutoring Program and Instructor
Identify Needs
Our knowledgeable directors help you choose your tutor with your learning profile and personality in mind.
Customize Learning
Your tutor can customize your lessons and present concepts in engaging easy-to-understand-ways.
Increased Results
You can learn more efficiently and effectively because the teaching style is tailored to you.
Online Convenience
With the flexibility of online tutoring, your tutor can be arranged to meet at a time that suits you.
Top International Cities for C++ Tutoring