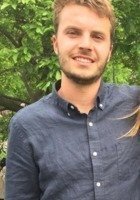 Ben
Certified Tutor
I am a graduate of Oberlin College where I studied Jazz Bass Performance and Economics. I am also a member of the Phi Beta Kappa Academic Honors Society.

Throughout my time in school I was a teaching assistant and grader for many economics classes where I tutored students in groups and one on one in both mathematic and theoretical concepts. I also have experience teaching musical lessons such as jazz bass, piano, and music theory to younger students. Experience in these different teaching environments has helped me cultivate a teaching style that identifies how to teach each individual student based on their learning style and personality. While working with students on topics from math to music theory to test prep, I hope to draw on my multidisciplinary background to effectively give each student a solid understanding of the subject matter at hand.

Overall I am very easy going and enjoy working will all age groups and at all academic levels. I look forward to the challenges and rewards presented with each student!
Education & Certification
Undergraduate Degree: Oberlin College - Bachelor in Arts, Economics
Test Scores
ACT English: 33
ACT Math: 36
ACT Reading: 30
Hobbies
Playing music, Jazz, Soccer, Basketball, and staying active in general
Tutoring Subjects
10th Grade Math
11th Grade Math
AP Economics
AP Music Theory
Applied Mathematics
Business
College Economics
High School Business
High School Economics
Macroeconomics
Music
Music Theory
Other
What is your teaching philosophy?
I believe that the most important part of teaching any student is identifying an individual's learning style. Once a teacher knows how a specific student learns, the ability to convey concepts from all subject areas becomes much easier.
What might you do in a typical first session with a student?
In my first session, I will take time to get to know the student and find out their goals what they hope to learn from me as a tutor. This will help us identify targets for learning and establish a relationship on a personal level, not just student to teacher.
How can you help a student become an independent learner?
The best way for a student to become an independent learner is by having a solid grasp on a certain concept. Just going over practice problems can boost a student's confidence level, but it may not make a lasting impact.
How would you help a student stay motivated?
By using examples that apply outside of just an academic setting, I hope to engage students by tapping into their interests.
If a student has difficulty learning a skill or concept, what would you do?
Try a different approach. Sometimes approaching a concept from one learning style (i.e. mathematically or visually) is not effective. It is important to know your student and what styles of learning they thrive with.
How do you help students who are struggling with reading comprehension?
Slowing down and breaking paragraphs into sentences and phrases helps the student understand mechanics before looking at the bigger picture.