Work With The Perfect Tutor For You
Only the best Westport tutors are able to work with you. The tutors go through a rigorous interview, possess excellent teaching skills, and pass a background check. From this elite group, an expert director will help you find the best tutor to meet your individual needs – and we stand behind your satisfaction with our money-back guarantee.
Each tutor skillfully differentiates instruction to meet his or her students' needs. Tutors provide one-on-one sessions when and where you feel most comfortable.
About Westport
Westport, KY, lies along the Ohio River in Oldham County. The river serves as the border between Indiana and Kentucky. The nearest large city is Louisville, which is located less than 40 miles northeast along the river.

Westport is a part of the Oldham County School District. Students within the area attend North Oldham High School. If you are worried about that big exam coming up, online and in-person tutoring in Westport might help you improve in your test prep. Worrying about your grades can be stressful, so help yourself out by connecting with a tutor. You have a better chance of getting into the best schools if you take advantage of Westport, KY, tutors for either online or in-home private tutoring and test prep instruction. The University of Louisville is ranked among the top 170 colleges in the nation. It would be an excellent option for any student who is looking to get into a well-recognized university. Whether you are going to a prestigious elite university or a community college, private online or in-home tutoring and instruction from a Westport tutor is a good idea to help you with your test prep and courses.
Private 1-on-1 Tutoring by top UofL Grads. We serve Louisville and all suburbs.
Session Summaries by Tutors
"We covered 40 questions in probability, statistics, algebra, and geometry, but need to do more work before the exam."
"We covered the concepts in geometry that were on the student's upcoming test: finding a midpoint between two points on a graph, finding the distance between two points on a graph, perimeter and area of a triangle, circle and square shapes, and angles and rays. He said he was struggling the most with angles and rays, so we did the most work on those problems, and I quizzed him on vocabulary. He was understanding all the material pretty well, and I had him work on memorizing the distance and midpoint formulas. I had him do some multiple choice questions and other questions from the review in his textbook. He was impressively focused for two hours. "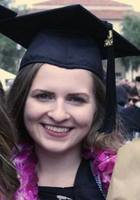 "Today the student and I began by discussing what was covered on the recent certification exam he attempted, so we can guide our sessions more specifically in the future. We then reviewed the mesh current method of circuit analysis, and I showed him how to use matrices and row reduction to easily solve large systems of simultaneous equations that he had previously struggled to efficiently solve. I also linked him to some videos from a test prep site that go into further detail on row reduction as a method of solving systems of equations."