Work With The Perfect Tutor For You
Accomplished Charlestown tutors meet our exacting qualification requirements, pass a multi-step interview process, and undergo background screening. One of Varsity Tutors' expert directors helps to pair you with a qualified tutor to ensure the best possible match – it's even backed up with a money-back guarantee.
Personalized lessons help you learn best in an environment where you're comfortable, on your own schedule, both in-home or online.
About Charlestown
Charleston, Kentucky, is an unincorporated community in Hopkins County. Nearby Dawson Springs is home to Pennyrile Forest and a state park.

Just five miles away is Dawson Springs High School, located in the Dawson Springs Independent School District. The high school is ranked among the top 40 in the state and received a silver medal award. Charleston tutoring lets you receive private instruction, either in-home or online, for your class or test prep today. To potentially improve your score on that important exam, take advantage of an online or in-person tutoring session with a Charleston tutor who is skilled in test prep for students at all levels. A little over an hour away is Bowling Green, home to Western Kentucky University, which is ranked among the top 50 regional universities. A Charleston, KY, tutor can offer you private instruction, through either online or in-home tutoring sessions, to help with your test prep and get you into your top school choice.
Private 1-on-1 Tutoring by top UofL Grads. We serve Louisville and all suburbs.
Session Summaries by Tutors
"The student has begun the statistics portion of the course. We simply reviewed some of the terminology of samples. We determined if data was ordinal, nominal or interval. We talked about how graphs can be misleading if draw a certain way and the proper way to create histograms."
"We went over parabolas, circles, conic functions, hyperbolas, and ellipses. The student needed the most help with hyperbolas, but we worked through it until he understood them. He has his test tomorrow."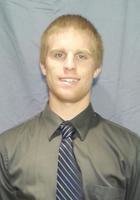 "During our session, the student and I worked through a packet of review problems he has for his final exam. The problems we covered dealt with many different topics, as the review packet covers all material from the class, including trigonometric ratios, finding the area of a dodecagon given its perimeter, calculating the standard deviation and variance of a data set, and determining at exactly what times the hands of a clock lie on top of one another. While some of the problems were rather difficult, the student and I worked through each one as I explained the steps to finding the solution, and after each problem he understood the material and how to arrive at the solution very well. The student is already looking very prepared for his final next month, and during our next session we will continue working through his review packet to cover the remaining topics on which he will eventually be tested."