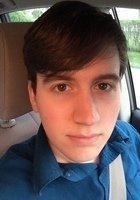 Evan
Certified Tutor
I've been teaching in various forms over the past eight years, and nothing has been more meaningful and exciting for me than helping students grow as independent learners! As a principle, I don't just give students the answers - I ask questions to help guide them towards the solution using the concepts they know and the information they're given in each problem. After students develop a strong foundation, I've found that they have greater confidence in their own abilities and don't find problems nearly as intimidating. If a student becomes more confident in their abilities and no longer needs my help, I consider my job well done! I earned a dual Bachelor's Degree in Physics and Chemistry, with a minor in Mathematics, from a small liberal arts institution. (Or in other words, thousands of hours spent either in front of a chalk board or in a chemistry lab - and I loved every minute of it!) As a graduate physics TA at the University of Kentucky, I've spent seven semesters teaching physics laboratory courses to 60 undergraduates per semester. I create my own presentations, interactive activities, and worksheets to help my students learn the complex physics and error analysis concepts. In my second year, I was promoted to a Supervising TA position, in which I continued to teach while supervising and advising 5-6 other TAs teaching the same course. Beyond my university experience, I've worked as a math, science, test prep, and history tutor for over 1000 hours through various companies and independently. I excel in working with small groups or one-on-one, and I've received overwhelmingly positive reviews from my students for my attitude, patience, willingness to help, and careful attention to helping each student learn in their own way. I hold myself to a high standard and am constantly seeking to improve as an educator. I welcome all feedback and will tailor my sessions to meet your needs, whether that be preparing for exams, working through current homework, or reviewing concepts in general. I look forward to hearing from you and helping you succeed as an independent learner!
Education & Certification
Undergraduate Degree: Centre College - Bachelor of Science, Physics/Chemistry
Test Scores
ACT Composite: 36
ACT English: 36
ACT Math: 36
ACT Reading: 35
ACT Science: 35
SAT Composite (1600 scale): 1550
SAT Math: 750
SAT Verbal: 750
SAT Writing: 790
GRE: 330
GRE Quantitative: 163
GRE Verbal: 167
Hobbies
Reading history and science books, hiking, tennis, strategy games
What is your teaching philosophy?
The principal purpose of education should not be to have students memorize facts or to get them to pass an exam. Rather, education should expand a student's mind so that even when all the facts have been forgotten, the impact of their educational experience will remain, and they will be better people for it. Students should be able to think critically and logically, make rational arguments and defend them, and develop creative solutions to the challenges of tomorrow in a world that is often unpredictable. To help make this happen, I take inspiration from the Socratic method. I don't just give my students the answer. I give them a foundation and then ask them questions to let them work towards the answer. In the process, they use the concepts they've already learned in combination with their critical thinking and reasoning skills. The end result, then, is that students become truly independent learners. I consider my job well done whenever I am no longer needed.
What might you do in a typical first session with a student?
First sessions are ideal times to identify general problem areas with which the student is struggling and to discuss problem-solving strategies. During a first session, I typically discuss a student's goals, where they are currently in the course material, and the results of any previous tests or assignments that gave them trouble. I then typically work through any current homework assignments or exam preparation with them, followed by a review of previous assignments or exams that gave them trouble. If any topic is particularly difficult, I will often come up with additional problems during the session to help strengthen the student's understanding or develop more detailed problem sets between sessions. I'm very flexible, however - ultimately, what we do in each session is up to the student - I want to help you reach your goals in whatever way is most effective for you!