100% Tutor Satisfaction Guarantee
At Varsity Tutors, we're committed to connecting you to top tutors capable of delivering an outstanding experience. That's why we provide a 100% tutor satisfaction guarantee.
Private In-Home and Online ACT Math Tutoring in Miami, FL
Receive personally tailored ACT Math lessons from exceptional tutors in a one-on-one setting. We help you connect with in-home and online tutoring that offers flexible scheduling and your choice of locations.
Session Summaries by ACT Math Tutors
"In today's session the student and I really went in-depth into functions, continuing the "input-output machine"ù metaphor. We did a quick review of the basics covered last time, before moving onto discuss composite functions. While practicing composite functions, we went briefly over undefined solutions as we practiced with a problem in which there was a square root of a negative number. Using a graph, I discussed the vertical line test with her and described what exactly "undefined"ù or no solution meant, which is that there are multiple y's for one input of x which means there's no defined, clear answer. After making sure Tatum had the hang of composite functions, we started on problems with strange symbols, which are basically disguised functions. Finally, we began covering what functions at different powers look like and what their properties are with different coefficients, which entailed a quick discussion of PEMDAS as well as the "invisible ones"ù which exist in front of variables and expressions. In general, she handled today's lesson very well. One strategy I tried my best to emphasize was, as usual, writing everything out. While seemingly simple, it is very easy to avoid doing in math, but I believe it'll help her, particularly with her challenge of knowing when to continue or stop with a problem. As always, the student was very good about engaging with the material, asking intelligent questions throughout the lesson and figuring things out on her own as I introduced concepts."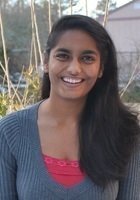 "We did another full practice test that was timed and with no interruptions. The goals of this were to simulate testing conditions and to allow the student to think about, and for me to see, how her timing is and how she uses time leftover when we aren't pausing to answer questions. This was her best test to date. She missed 5 questions, which translated to a 33 for the section and she had 10 minutes to spare to review problems. After the practice test, we did extra work again with Geometry, sequences, and interest, the formulas for which are still the toughest areas for her."
"I coached the student through more Math practice. I had him do a timed practice, one minute per question, on facing pages in the ACT book. He has no trouble with any one particular concept consistently. I discovered some new areas that will be good to go over again in a future session: the three more "advanced" trig functions and Pythagorean triples."