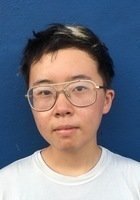 Parker
Certified Tutor
I've always harbored dual passions for learning and teaching. Growing up in Kansas City, I participated in competitive math and spelling, going on to tutor middle school MathCounts and serve as my younger sibling's spelling bee coach. These experiences cemented my desire to serve as a mentor for others.

With a background in higher-level math, I tutored the subject throughout high school while also serving as captain of the varsity tennis team and teaching private tennis lessons on the side. Top ACT and SAT scores earned me a scholarship at the University of Miami, where I was able to develop a newfound love for the fine arts. I am now pursuing a B.S. in computer science as well as a B.A. in studio art, with minors in mathematics and public health. I feel that my artistic practice has shaped my teaching, pushing me to take a creative, non-rigid approach to education -- I believe in working closely with my students to create individualized plans that cater to their specific learning needs.

I specialize in tutoring middle/high school math (pre-algebra thru pre-calc) and test prep (SAT, ACT, and PSAT.) I am also comfortable tutoring middle/high school reading, essay writing, vocabulary, and computer science. In my free time, I paint, play tennis, and play synth in a band. I look forward to working with you!
Education & Certification
Undergraduate Degree: University of Miami - Current Undergrad, Computer Science, Studio Art
Test Scores
ACT Composite: 36
ACT English: 36
ACT Math: 36
ACT Reading: 36
ACT Science: 36
SAT Composite (1600 scale): 1600
SAT Math: 800
SAT Verbal: 800
SAT Writing: 790
SAT Mathematics Level 2: 800
SAT Subject Test in Literature: 780
Hobbies
painting, coffee, music, tennis
Tutoring Subjects
10th Grade Math
10th Grade Reading
10th Grade Writing
11th Grade Math
11th Grade Reading
11th Grade Writing
12th Grade Math
12th Grade Reading
12th Grade Writing
6th Grade Math
6th Grade Reading
6th Grade Writing
7th Grade Math
7th Grade Reading
7th Grade Writing
8th Grade Math
8th Grade Reading
8th Grade Writing
9th Grade Math
9th Grade Reading
9th Grade Writing
ACT with Writing
Adult Literacy
Algorithms
American Literature
Anatomy & Physiology
AP Computer Science
AP Computer Science A
AP Computer Science Principles
AP English Language and Composition
AP English Literature and Composition
AP Studio Art
AP Studio Art: 2-D Design
Art
Art History
Basic Computer Literacy
Cello
College Biology
College English
College Level American Literature
College Math
Computer Programming
Conversational French
Data Structures
Drawing
Elementary Algebra
Elementary School Writing
Epidemiology
Expository Writing
Fiction
Fiction Writing
Handwriting
High School Biology
High School Chemistry
High School Computer Science
High School English
High School Level American Literature
High School Physics
High School Writing
Honors Chemistry
Introduction to Fiction
Introduction to Poetry
Java
Medicine
Microsoft Excel
Microsoft Office
Middle School Reading
Middle School Science
Middle School Writing
Music
Other
Painting
Persuasive Writing
Poetry
Poetry Writing
Public Health
SAT Subject Test in Literature
SAT Subject Test in Mathematics Level 2
SAT Subject Tests Prep
Spelling Bee
Study Skills and Organization
Summer
Technical Writing
Technology and Coding
Vocabulary