Private In-Home and Online Anatomy Tutoring in Alexandria, VA
Receive personally tailored Anatomy lessons from exceptional tutors in a one-on-one setting. We help you connect with in-home and online tutoring that offers flexible scheduling and your choice of locations.
100% Tutor Satisfaction Guarantee
At Varsity Tutors, we're committed to connecting you to top tutors capable of delivering an outstanding experience. That's why we provide a 100% tutor satisfaction guarantee.
How can Anatomy tutoring help you succeed?
Anatomy is quite an important topic, and it teaches students about the human body and all of the parts that compose it. The subject includes areas that study the endocrine system, the reproductive system, and more. However, the subject can be difficult, and some students do have trouble fully understanding the topics discussed in their anatomy course. If you're currently taking an anatomy class, and would like some help, consider signing up to work with your own private tutor. If that sounds useful to you, Varsity Tutors can help find you an expert anatomy tutor in Alexandria to work with you in pursuit of realizing your potential in your class.

When you begin working with a private tutor, you'll be gaining access to a professional educator who is experienced in instructing others about anatomy. This level of accessibility means that you have somebody to ask your questions and that you'll be able to receive helpful responses to those questions immediately. This can help you save you tons of time that may have otherwise been spent looking for those answers yourself. Also, your tutor can work with you to first figure out your biggest struggle points in anatomy, and then can create a focused lesson plan to help you overcome them. That's one of the biggest reasons why enlisting the aid of a private tutor can be so advantageous to your studying process. In other words, an expert anatomy tutor in Alexandria, VA, can help you make better use of your study time.
Top tutors from Georgetown and other respected universities serving DC, MD and VA. 4.9/5.0 Satisfaction Rating*
Session Summaries by Anatomy Tutors
"The student said that she needed to learn about chemical reactions for her final, so we started the session by reviewing the basic requirements for a chemical reaction. We also discussed enzymes, and how they are useful in accelerating chemical reactions. After this brief introduction to chemical kinetics, we continued to review taxonomy and evolution. The student was somewhat slow to understand the new chemical material, but was virtually 100% accurate with classification and evolution questions. The new material is not a concern as we have three more days to review it before her final. In the meantime, we will start ecology tomorrow, and start to review the material first covered in the class. I will continue to prepare questions for the student to answer, but will start to prepare questions on paper in order to simulate what quizzes and the final will look like."
"We covered his immune system and nervous system lectures in preparation for his test on those topics tomorrow. We also discussed some questions and practiced what may be asked from those lectures. Afterward we continued the general review of all his lectures from the year in preparation for the final. We finished transcription and began translation. "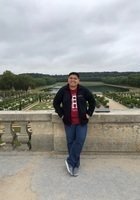 "We discussed how the study plan was working for the student. She was positive about it. We reviewed chapters 2,3 and 4. The student seemed to have a good handle over understanding of the material. The student is to continue with the plan and send me the study guide for the test and any information she may feel she will need extra help with memorization. This session went very well."