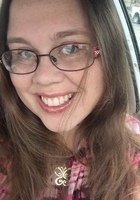 Stacie
Certified Tutor
My greatest passion in life is helping others learn and understand. I love learning new things myself, but nothing compares to the sense of accomplishment and purpose that comes with helping others do the same. I take great pride in developing individualized tutoring programs for my students based on their specific needs and goals.

I previously taught high school for several years and also have tutoring experience in a wide variety of subject areas. At this time, I focus almost exclusively on assisting students seeking top scores on graduate admissions exams, including the GRE, GMAT and LSAT. In my free time I enjoy watching all kinds of sports, reading, playing board games, going to concerts, and spending time with my friends, family, and 4-pound Chihuahua Pinkie.
Education & Certification
Undergraduate Degree: The University of Texas at Arlington - Bachelors, English
Graduate Degree: Texas AM University - Commerce - Current Grad Student, Secondary Education
Hobbies
Swimming, reading, watching sports of all kinds, horseback riding, board games, cooking, theater-going, concerts
Tutoring Subjects
10th Grade Math
11th Grade Math
12th Grade Math
7th Grade Math
8th Grade Math
9th Grade Math
Anatomy & Physiology
AP English Language and Composition
AP US History
Business
College Accounting
College Biology
College Economics
College English
College Level American History
Comparative Literature
Conversational Spanish
GMAT Analytical Writing Assessment
GMAT Integrated Reasoning
GMAT Quantitative
GMAT Verbal
GRE Subject Test in Literature in English
GRE Subject Test in Mathematics
GRE Subject Tests
High School Accounting
High School Biology
High School Business
High School Economics
High School English
High School Level American History
Homework Support
Macroeconomics
Other
Probability
Quantitative Reasoning
Shakespeare
Social Sciences
Spanish 1
Study Skills
Study Skills and Organization
Summer
US History
World Literature
What is your teaching philosophy?
My teaching philosophy is essentially that all students have the capacity and desire to learn. Some individuals may just need individualized instruction in particular subject areas or with study skills and time management. I think that building confidence is one of the most key components to academic success, and I strive to do so with every student.
What might you do in a typical first session with a student?
In a typical first session with a new tutoring student, my primary objectives are to develop a good rapport and get a sense of the student's strengths, weaknesses, and goals. During this time, I also like to work out a schedule for tutoring and get an idea of what teaching methods might work best for this particular student.
How can you help a student become an independent learner?
I try to gauge the student's level of understanding as we work through the material and consistently move toward the student completing work more independently. I also give the student time to think about how to approach questions and problems. I think that the ability to work independently and find solutions to problems using available resources is ultimately one of the most valuable tools that we teach our students.
How would you help a student stay motivated?
I try to keep the material as engaging as possible, coming up with creative ways to explain concepts. I think that student confidence is an important factor in this area as well. A student who feels that he is never going to understand something is not going to be motivated to continue trying, but a student who is able to experience progressively higher levels of success is likely to stay engaged and motivated.