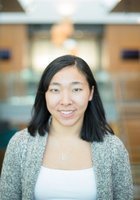 Michelle
Certified Tutor
I tutor purely because I enjoy it. Education has opened up so many doors for me, and this is largely because I was fortunate to have some amazing teachers growing up who made learning fun (or at the very least not miserable). My goal is to do the same for each one of the students who I work with, and find ways to make even the most abstract concepts or complex math problems "click" in a student's mind.
Test Scores
ACT Composite: 35
ACT English: 35
ACT Math: 34
ACT Reading: 36
ACT Science: 36
MCAT: 35
GRE Quantitative: 168
GRE Verbal: 165
Hobbies
I spent the past 20 years of my life doing gymnastics, so that is a sport which is near and dear to my heart. In addition, I have been converted to a die-hard Carolina fan, and bleed Carolina blue like many other Tar Heel alums. Other than that, I like staying active, and now that my gymnastics days are over, I enjoy trying a variety of new sports (which I'm terrible at, but enjoy nonetheless).
Tutoring Subjects
10th Grade Math
11th Grade Math
12th Grade Math
9th Grade Math
Anatomy & Physiology
Business
College Accounting
College Biology
College Chemistry
College Economics
College Physics
Financial Accounting
High School Accounting
High School Biology
High School Business
High School Chemistry
High School Economics
High School Physics
Macroeconomics
Managerial Accounting
Quantitative Reasoning
What is your teaching philosophy?
Individualization is key. Find a way to make it "click" for each person that I work with. For some, that means using sports analogies; for others it means creating color-coded diagrams; but the key is always to adapt my instructional approach to how a student learns.
What might you do in a typical first session with a student?
Ask LOTS of questions! About both what they are specifically looking for help with in a given subject matter (i.e. how to prepare for tests vs. "What the heck does this sentence that I wrote down in lecture even mean?" clarification, etc.) and what motivates them inside and outside the classroom.
How can you help a student become an independent learner?
Building confidence is key. Most of the time when I work with students, they actually know a lot more than they think they do (which is awesome), and it's just a matter of getting them to realize how much they know and trust themselves. Along these lines, I will always walk students through problems the first couple of times, but then gradually encourage them to do more and more of the problem themselves as they gain confidence with the material. The end goal is always to be able to give students a practice test and show them that they can score a 95%+ all on their own.
How would you help a student stay motivated?
In my mind, the best way to keep a student motivated is to (a) understand the big "why" behind they are taking a specific class (i.e. "I just need it to graduate," or "I want to apply to medical school and become a doctor") and (b) make sure that the student continues to make tangible progress in their understanding of the material at hand.
If a student has difficulty learning a skill or concept, what would you do?
I always ask questions to better understand what part of a particular concept or skill isn't clicking. In addition, I will always connect the new material back to something that the student understands well through analogies and metaphors. This helps students realize that the new concept isn't all that different from something that they already know.