Work With The Perfect Tutor For You
All South Bethlehem tutors possess the highest qualifications. In addition to completing a rigorous interview process, tutors in South Bethlehem, NY must pass a background check and have academic credentials verified. An expert director will help you find the best tutor from this elite group; we stand behind these matches and even offer a money-back guarantee.
Each tutor skillfully differentiates instruction to meet his or her students' needs. Tutors provide one-on-one sessions when and where you feel most comfortable.
About South Bethlehem
South Bethlehem is a little hamlet in the town of Bethlehem, NY, a suburb of Albany. It gets its name for being on the southern side of town, and was originally known as Janes Corners.

South Bethlehem children are zoned into either the Bethlehem Area School District or the Ravena-Coeymans-Selkirk Central School District, and they will typically attend Bethlehem Central High or Ravena-Coeymans-Selkirk High. Looking to advance your education through private tutoring in South Bethlehem? You may enjoy receiving instruction, either in-home or online, for your class or for test prep. You can put in the work to try to keep up with online tutoring in South Bethlehem for your courses or test prep. There are also many excellent colleges in the area, with two of the best being Excelsior College in Albany and the Rensselaer Polytechnic Institute in Troy. With South Bethlehem, NY, tutoring in-home or online, you could potentially increase your odds of getting into these top schools, especially through private instruction for test prep.
Affordable 1-on-1 Home Tutoring by top RPI Grads! 4.9/5.0 Satisfaction Rating*
Session Summaries by Tutors
"During this session, we went over topics in Geometry and Biology. In Geometry, we covered went over two worksheets that were done in class and went through her assigned homework. One worksheet dealt with the definitions of tangents, chords, and secants of circles while the other discussed the area of sector/segments as well as the lengths of arcs. She didn't have any difficulties dealing with the definitions so we just reinforcement the notions a little bit. She easily applied the formulas to find the areas and lengths of sectors and arcs, respectively, but didn't know from where the formulas came so I explained both important formulas. She understood the "big picture" where segments are just sectors with their corresponding triangles cut out so she knew that she had to find the area of the entire sector (which she could do easily) and subtract the area of the triangle (not so easy). To simplify the topic, we started at the familiar area of a triangle formula and used trigonometry to represent the "base" and "height" of the triangle in terms of the given information (radius and angle). After a couple of practice problems, she recognized a pattern and was easily able to find areas of segments. In the remainder of the session, we went over the first section of her Biology review which covered the topics that would be tested the next Tuesday. The topics involved the biology of the human body. Specifically, we covered the organization (from cell to organism), the structure of certain systems (pulmonary, circulatory, and nervous), methods to maintain homeostasis, and the interaction between receptors, control centers, and hormones. She did well on her last test but we hope to do even better on this next one! "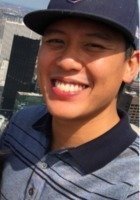 "The student has a chapter test on probability coming up so we prepared for that. After a brief explanation of various concepts, everything clicked. I think that the student is more than ready!"
"During this session we went over naming compounds and writing chemical formulas and redox reactions. Overall this session went well."