Work With The Perfect Tutor For You
Our interview process, stringent qualifications, and background screening ensure that only the best tutors in Waterford, NY work with Varsity Tutors. To assure a successful experience, you're paired with one of these qualified tutors by an expert director – and we stand behind that match with our money-back guarantee.
You select the time and location, and expert tutors develop the strategies to help you meet and exceed your tutoring goals.
About Waterford
Waterford, NY, has a population of roughly 8,600 residents. The town is in Saratoga County and falls along the Mohawk River. Waterford is also the name of the town's principal village.

Waterford-Halfmoon Junior-Senior High School serves the town's students as a member of the Waterford-Halfmoon Union Free School District. You may enjoy working with Waterford tutors, who are happy to provide you with online tutoring and test prep assistance. It's imperative for high schoolers to achieve greatness in their academics in order to be accepted to the college of their dreams. If you seek online or in-home private tutoring for test prep and general subject instruction from Waterford, NY, tutors, you could potentially increase your odds of getting into your top school choice. One nearby college choice is the University at Albany SUNY. This New York school is ranked in the top 130 schools in the nation, which may make it difficult to be accepted into the college. A private Waterford tutoring session can give you expert in-home or online instruction to potentially help you improve in your test prep or course.
Affordable 1-on-1 Home Tutoring by top RPI Grads! 4.9/5.0 Satisfaction Rating*
Session Summaries by Tutors
"The student and I worked with logarithmic functions yesterday. We began by working with equations that had the same log base on each side of the equation. The student flew through these problems, noting that he had already done a few of them the previous day for homework. His class has a quiz on these types of problems this week, and the students felt really strong about the quiz. After seeing that he was more than capable of solving these problems, we opted to move towards using his chapter review packet and getting into some log functions that he had not yet learned in class. We covered probably two days worth of lessons in the 30 minutes we had remaining. The student was really pumped that we were able to get a head start, and was looking forward to class today knowing that he would have a leg up on his peers. It was a great session for the student. "
"The student is back in school. She's actually been back for a few weeks. We worked on review problems. They mostly involved lines. We worked with the standard form, the point slope form, and the slope intercept form. We also worked on systems of equations and graphing with vertical, and horizontal changes."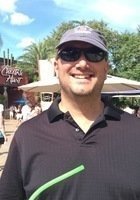 "We covered a variety of topics that will be covered on her next test. This mainly included friction and inclined planes. She worked very hard on grasping the concepts that we covered. She seemed to have an excellent understanding of the material and I am confident she is going to score well on her next test."