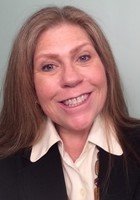 Julie
Certified Tutor
I am a creative and enthusiastic teacher who is committed to bringing out the best in each of my students. With a passion for helping my students learn and grow, I come to each session prepared to make a difference. However, I also know that learning is not something that I, alone, control. Learning is a cooperative venture and students learn best when we work within their preferred learning styles, using a context that is relevant and interesting to them. The goal is not just to make a difference today, but to help instill and develop skills and values that will enable each student to become a motivated and life-long learner.

As a tutor, I believe that it is my job to help identify my students' strengths and areas of challenge. Often students can't identify what they do understand and what they aren't able to comprehend, and they can get mired down in frustration and discouragement. I see myself as a solid support person, always on my student's side; someone who sees the good and possibility when the student might not be able to see his or her own successes.

As an avid communicator, writer and storyteller, I bring my love of the dramatic to my sessions, continually looking for ways to excite and interest my students. I am both patient and persevering, and am willing to set boundaries when needed. My goal is to see each of my students succeed to the best of his or her own ability and to gain in confidence as well as skill.


Education & Certification
Undergraduate Degree: Wellesley College - Bachelors, Religion and Philosophy
Hobbies
reading, walking, knitting and crocheting, writing
Tutoring Subjects
College English
Elementary School Math
High School English
Homework Support
Other
What is your teaching philosophy?
I believe that every child has unique strengths and characteristics. As a teacher, I want to work alongside children to enable them to discover and use these strengths to become inspired and independent learners.
What might you do in a typical first session with a student?
It's important to build a relationship with a student, so in the first session, I would typically help a student share their interests and hobbies. We would also play simple games as icebreakers.
How would you help a student stay motivated?
For a student to stay motivated, they need the confidence that what they're working on is both relevant and achievable. Breaking difficult material down into simpler chunks is a must. At the same time, it's easy to get bored, especially when something feels very challenging, so approaching the material in new and different ways can be very helpful.
If a student has difficulty learning a skill or concept, what would you do?
Generally, when students come for tutoring, they're struggling with a difficult concept or skill. Helping students see what they are able to accomplish, and what they do know can be a confidence booster. Identifying exactly what skills are needed to be successful and breaking down complex problems into simpler steps also helps a lot. Often, what at first seemed like an insurmountable problem, when broken down, appears far less so.
How do you help students who are struggling with reading comprehension?
First I work to identify where the problem is. It could be that the vocabulary is too difficult, the student's attention span is too short, or there might be a visual perception problem or other issues. We might start with a simpler text, or having the passage read out loud or even going through the text and underlining words that the student doesn't know. Good readers can glean meaning from context, but poor readers (and listeners) often can't, so work needs to be done to help strengthen that skill.
What techniques would you use to be sure that a student understands the material?
Allowing a student to 'teach' the material is a wonderful way to confirm that the student understands. And most children enjoy taking on the role of teacher!
How do you adapt your tutoring to the student's needs?
Getting to know the student is key. The more we build a relationship, the more I can understand what motivates and inspires the student. No two people are the same, and reaching and teaching well will be slightly different for each one. I work hard to find ways to keep the student's interest by trying new things, using drama and play, and by being encouraging and positive.
What types of materials do you typically use during a tutoring session?
Depending on the subject, I bring cuisenaire (number) rods, Legos, puppets, pipe cleaners, interesting children's books and more!