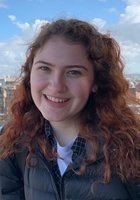 Jade
Certified Tutor
While earning my high school diploma and IB diploma, I found some of my best resources were upperclassmen. Having just finished my freshman year in college studying biology at Trinity College Dublin, I still look to my peers for help. Often times, it is easier to ask questions to another student than to a teacher; I am looking to be that person for someone else. While chemistry and biology are my all-time favorite subjects, I completed my IB diploma with HLs in History, English, and Spanish. Ask me about applying to international colleges from the United States! My experiences may not translate exactly, but I'd love to offer any help or ease of mind. I believe relating examples to our everyday lives and passions is the best way to connect to a challenging course. On an average day, you can find me baking, exploring Dublin, and listening to podcasts.
Education & Certification
Undergraduate Degree: Trinity College Dublin - Bachelor in Arts, Biomedical Sciences
Test Scores
ACT Composite: 31
ACT English: 35
ACT Reading: 33
ACT Science: 30
Hobbies
I enjoy filling my free time with baking and cooking. In the past year, it has become my favorite hobby, and my friends and family aren't complaining either. To unwind, I make pottery or watch the Planet Earth documentary series (sometimes both at the same time). In the future, I want to travel more and see more beautiful sights in the world.