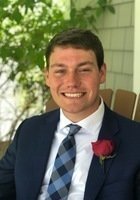 Ethan
Certified Tutor
I am an undergraduate student at Washington University in St. Louis majoring in Neurobiology (B.S.) and minoring in Jazz Studies and Biomedical Physics. While I tutor many areas within math, science, and standardized test preparation, I am most passionate about biology and algebra because of my interest in these subjects as well as my belief in their importance. I have always been the friend who fellow peers go to for guidance with work and because of this, I have learned the value of patience, communication, and empathy in the education process. I firmly believe that every subject I tutor is vital in a student's path to success and a greater understanding of the world, and because of this, I will fully commit myself to making sure my tutees have a solid grasp of the concepts being taught as well as the ability to apply them to real-world situations.

When I'm not doing schoolwork or tutoring, I enjoy listening to music, hiking, playing sports, spending time with my dogs, and watching funny T.V. shows!
Test Scores
ACT Composite: 35
ACT English: 35
ACT Math: 35
ACT Reading: 34
ACT Science: 34
SAT Composite (1600 scale): 1510
SAT Math: 790
SAT Verbal: 720
Hobbies
Music, sports, hiking, cooking, dogs/pets, community service.
Tutoring Subjects
High School Biology
High School Chemistry
SAT Verbal