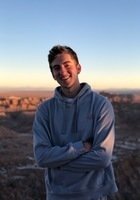 Max
Certified Tutor
Hi, I'm Max! I'm a college student at Washington University in St Louis, where I am studying Economics, Political Science, and Middle East Studies. I am very excited to help out some students through Varsity Tutors!

As a member of National Honor Society in high school, I tutored students of grades 6-12 in Math, Writing, and Spanish. After I took my own SATs, I started a business for SAT and ACT test prep. I thought it was a shame that some people thought they had to pay $100 an hour for quality tutoring (you don't!).

Since spring of 2020, I've been tutoring with Varsity Tutors. Even online, I have built relationships with students and feel invested in their success. I love seeing students master the concepts that have confused them in the past. I am often complemented on my ability to explain daunting concepts in easier words. I believe this is the most important ability of a tutor.

I have focused a lot on standardized test prep in the past but I am more than happy to tutor Math, English, Writing, or History at any level. I look forward to helping out!
Test Scores
ACT Composite: 36
ACT English: 36
ACT Math: 35
ACT Reading: 36
ACT Science: 36
SAT Composite (1600 scale): 1540
SAT Math: 790
SAT Verbal: 750
AP Calculus BC: 5
AP US History: 5
AP World History: 5
SAT Mathematics Level 2: 800
SAT Subject Test in World History: 790
SAT Subject Test in U.S. History: 800
AP Macroeconomics: 5
AP Environmental Science: 5
AP Psychology: 5
Hobbies
Political activism, Music, Sports
Tutoring Subjects
High School Level American History
High School Writing