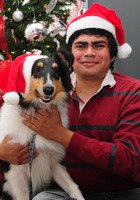 Rudy
Certified Tutor
Hello, I have a masters degree in biology and work in the biotech industry as a research scientist.

I have lived all over the country, which has been a great experience. I attended undergrad at Johns Hopkins University in Baltimore, Maryland. Then, I completed an AmeriCorps program working in a hospital in Los Angeles, California. I then attended graduate school at DePaul University in Chicago, Illinois.

While in graduate school, I was a TA and helped several undergrads in biology. I have found that several students have the potential to do well in school. The problems they face can be due to a variety of reasons, and one-on-one tutoring is a great way to help students figure out what those problems are and find out how to master the material.

Aside from my math and science interests, I enjoy hanging out with family/friends, reading, movies, traveling, and I'm down for trying almost anything. I also love dogs and have recently adopted my own puppy - a tri-colored, rough coat collie - and I'm having a great time raising him.
Hobbies
Hanging out with family & friends, movies, reading, traveling/exploring, my new puppy
Tutoring Subjects
Anatomy & Physiology
College Biology
College Chemistry
High School Biology
High School Chemistry
Social Sciences
Spanish 1