100% Tutor Satisfaction Guarantee
At Varsity Tutors, we're committed to connecting you to top tutors capable of delivering an outstanding experience. That's why we provide a 100% tutor satisfaction guarantee.
Private In-Home and Online Physics Tutoring in Syracuse, NY
Receive personally tailored Physics lessons from exceptional tutors in a one-on-one setting. We help you connect with in-home and online tutoring that offers flexible scheduling and your choice of locations.
How can a Physics tutor help you?
Physics is a very broad and in-depth field of study, and it is defined as a science based on discovering quantitative physical laws for just about everything you may think of. There are many different branches of physics, along with a multitude of theories and topics that stretch over the entire universe. No wonder a student might have difficulty when it comes to learning even the basics of physics. Luckily, a private physics tutor in Syracuse, NY, may work with you to try to get you back on track in your class and help you attain a comprehensive understanding of this expansive subject matter.

When it comes to understanding physics, there is a large amount of information to absorb. Physics is an interesting subject and having extra help may aid in enhancing your passion and understanding of it. For example, the fascinating Laws of Thermodynamics is a topic a tutor may help you to understand more clearly, and perhaps you may even apply your knowledge into your daily life or a career someday. Varsity Tutors may help you find Syracuse tutors who may aid you in honing your physics skills, succeeding in your coursework, and passing any testing you may take.
Affordable Private 1-on-1 Tutoring by top SU Grads. 4.9/5.0 Satisfaction Rating*
Session Summaries by Physics Tutors
"Today the student and I worked through a variety of practice problems, covering the topics of torque, center of mass, Bernoulli's equation, volume conservation in an incompressible fluid, and pressure."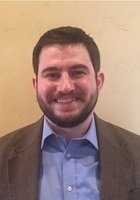 "The student has started working on rotational motion. Her teacher assigned a really helpful worksheet on the topics as a way of getting her ready for actual rotational motion problems. This worksheet allowed her to think rationally about the concepts behind rotational motion. This is excellent, because many physics classes never explain the concepts behind centripetal force which causes problems when students are trying to balance forces later on. She did really well with the material and she is very thorough in trying to understand the concepts. This will help her so much when she starts working on actual centripetal force questions. We went through the packet twice just to make sure that the student could explain all of the concepts in her own words. After going through the worksheets, we talked a little bit about a lab they are doing in class. We talked about how to find the velocity of an object moving in a circle by using the circumference, and then plugging the velocity into the centripetal force equation. She did really well today and she seems to be grasping the concepts. "
"The student worked on a in home electrostatics lab that tested both conductors and insulators for how much static electricity they picked up from being rubbed by felt and fur. The student made predictions about and tested various objects."