Private In-Home and Online Elementary Math Tutoring in Baltimore, MD
Receive personally tailored Elementary Math lessons from exceptional tutors in a one-on-one setting. We help you connect with in-home and online tutoring that offers flexible scheduling and your choice of locations.
100% Tutor Satisfaction Guarantee
At Varsity Tutors, we're committed to connecting you to top tutors capable of delivering an outstanding experience. That's why we provide a 100% tutor satisfaction guarantee.
How can Elementary Math tutoring help you succeed?
Elementary math is an important component of core curriculum and students much achieve satisfactory scores on the standardized testing, known as Partnership for Readiness for College and Careers (PARCC), beginning in 3rd grade. The scope of the material is broad and each lesson serves as a building block for subsequent lessons. It is imperative for students to successfully comprehend elementary math. If your child is struggling with basic math skills or needs help preparing for an exam, extra study time with the guidance of a qualified tutor is a wise investment. A professional tutor could help your student develop a firm grasp on key concepts, paving the way to future success in more advanced mathematics courses, such as algebra, geometry, and trigonometry. Let Varsity Tutors find you an expert elementary math tutor in Baltimore with the experience, skills, and teaching approach that matches your child's needs

One way to prepare for an elementary math course is an expert tutor in Baltimore, MD, who can create a study plan just for your child. Personalized one-on-one instruction brings a variety of benefits and a tutor has the freedom to set an appropriate pace as they proceed through curriculum. An expert elementary math tutor in Baltimore can help your student work towards all of their studying goals. Helpful feedback along the way strive to ensure accurate comprehension of the material, as well as good study habits. With the guidance of a skilled tutor, your student will develop number sense using a number line and countable objects. If your child struggles with more advanced concepts, such as converting fractions to decimals or properly applying the order of operations, an elementary math tutor can clearly explain the ideas in a way your child could easily understand. The one-on-one setting of tutoring provides ample opportunities for your student to ask questions about any material that might be confusing.
Private 1-on-1 Tutoring by Johns Hopkins Honors Grads! 4.9/5.0 Satisfaction Rating*
Session Summaries by Elementary Math Tutors
"Today's session was very focused and productive. We were able to complete what I had set aside for us. The first hour, the student read "Jamaica's Find", and was able to read through the book with very little assistance. Her ability to sound out words has improved and she is becoming more confident. After, she completed her writing assignment and discussed the importance of returning items that do not belong to you. The next hour was focused on writing practice. Her writing/printing skill has continued to improve, which we are all proud of her for. The last hour was math. Today's topic was subtracting one-digit from two-digit numbers. She was very quick at grasping the concept and had very little trouble completing her assignments, including mental math."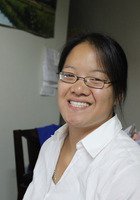 "Today we put a lot of emphasis on subtraction with borrowing. I incorporated this concept in different problem sets. For instance we did some fill in the blank problems that required subtraction with borrowing and addition. We also went over some word problems that required subtraction with borrowing. After gaining a full understanding of this concept, the student was able to do several problems and explain the process she took to solving the problems. Throughout the session the student would check her work by working backwards to ensure that she got the correct answer. Lastly we worked on place value and she has a good understanding of this concept. Next session we will do simple single digit subtraction and addition problems in order to increase her accuracy with more complex problems."
"The student and I worked on reviewing multiplication, division, and fractions. For our multiplication and division practice, we progressed from easy to more challenging problems. We reviewed that multiplication with larger numbers requires accounting for differences in place values (i.e., when moving from multiplying a digit in the one's place to multiplying a digit in the tens place, we must add a 0 to the one's place before we can begin multiplying). For division, we reviewed some terminology - dividend, divisor, and quotient. We practiced carrying numbers down and noting the remainder. As for our review on fractions, we also went over terminology - numerator, denominator, improper/mixed fractions, before moving on to practice problems. "