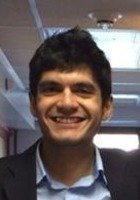 Rumit
Certified Tutor
I am a recent graduate from Franklin and Marshall College with a major in Economics and a minor in Math. I have been tutoring for the last five years and have taught several subjects including Math (Algebra, Trigonometry, SAT, and SAT Subject Tests), Physics (High school and SAT Subject Tests), SAT Writing, and Economics (High school and AP level).

I am extremely passionate about teaching and have taught students of several age groups (12 through 19). I would love to continue this passion by tutoring you!

Thank you so much for your time and consideration. I look forward to helping you out in any way possible!

Best,
Rumit
Test Scores
SAT Composite (1600 scale): 1540
SAT Math: 800
SAT Writing: 800
Hobbies
Traveling, hiking, cooking, cricket
What is your teaching philosophy?
My teaching philosophy is simple - I try to first gauge the level of the student's understanding of the subject and then pace my class accordingly. I try to focus on quality more than quantity, so if I feel a certain section needs more time to cover, I don't rush through it. I also believe in an interactive student-teacher experience where each lesson involves me teaching new material as well as the student asking me questions or me addressing any concerns about the taught material.
What might you do in a typical first session with a student?
I usually take the first session to understand the student's requirements and his/her level of comprehension of the subject. I would also talk about my lesson structure for the coming few weeks. However, I would not take up too much time with introductions and technical questions. I would like to get started on teaching as soon as possible on the first day.