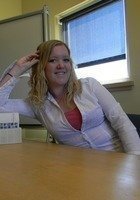 Alisha
Certified Tutor
I am a recent graduate from Colorado State University, with a M.A. degree in French Language, Literature, and Culture. I just moved out to the D.C. area to experience the east coast and to be closer to my parents. I am excited to be a tutor with Varsity Tutors because I simply adore sharing my knowledge with those who wish to learn it.

I taught English in France for two years between my undergraduate degree and my masters degree at three high schools in Limoges, France. I also tutored in my free time. It was this experience that started my passion in teaching. When I returned state-side, I was a French Adjunct professor at Front Range Community College, in Fort Collins, Colorado for three years teaching beginning French to a diverse group of adult learners. Both experiences were rewarding and exhilarating. I enjoy working with any age group and/or level of French. Whatever your experience is, I know that we can find a plan to help you excel in you language goals! Everyone has a different learning style and this is why tutoring is so successful; we can personalize your lessons to fit YOU!

In my spare time I like to indulge in a variety of activities: painting, dancing, bike riding, sewing, walking my dog, being outdoors in general, listening to my music and reading good books. I look forward to getting to know you! Cheers!
Hobbies
In my spare time I like to indulge in a variety of activities: painting, dancing, bike riding, sewing, walking my dog, being outdoors in general, listening to my music and reading good books.
What is your teaching philosophy?
Educational Philosophy The principal motivator that drove me towards teaching as a career was the possibility of imparting the knowledge that I have acquired onto others. This theory is still a major part of my teaching philosophy today. Teaching a foreign language has helped me to develop my educational philosophy in a number of ways. First and foremost, I view teaching not only as a chance to provide students with the knowledge that they are seeking, but to also provide them with a role-model that they might not have elsewhere. Working in the community college environment, this happens to be the case often. Many students I have grown to know over the years have had no one else in their lives to fill this role. This is why I believe that this is a very important aspect of teaching. I also feel that students should feel comfortable and at ease when learning a foreign language. Having taken language classes myself while growing up, I understand the fear of speaking in the foreign language. In order to create an environment where students feel comfortable trying out their new language, I feel the teacher must have a certain level of humility in their classroom. I tell my students about silly mistakes that I would make, or funny related stories, to show them that even if they make mistakes, they can then grow from them and excel in the language. To help students excel in any subject matter, a teacher must be aware of the different learning styles. Not all students are alike. However, they must be treated with the same respect, but at the same time, their individual learning styles must be catered to here. There are seven general learning styles in students: Visual (spatial), Aural (auditory-musical), Verbal (linguistic), Physical (kinesthetic), Logical (mathematical), Social (interpersonal) and Solitary (intrapersonal). In order to appease all seven, one must have varying activities throughout the course, unless you can rule out any of the styles from the current class you are instructing. In order to do this in my 2-hour long classes, I had to provide classes with some lecture, some PowerPoint, music that was related to the lecture, hands-on activities, the logical breakdown of grammatical structures, group and/or pair work, and solitary work as well. This is challenging; however, a 2-hour class is a long time for students in foreign language classes, and this variation keeps the students busy and alert, especially at 8 in the morning. I also feel that it is important to keep authenticity in the classroom alive. Being a non-native speaker of French, this can be a challenge too. However, I did live in France for three years, and I have plenty of stories about France and the French people to share with students when discussing cultural points in class. As a foreign language teacher, I understand and utilize the National Standards in Foreign Language Education, the 5 C's. To have my students ready and able to demonstrate the first C (Communication), I give them homework assignments to prepare short dialogues with a classmate, and then have them all demonstrate their conversations in class. These dialogues are related to everyday, real-life situations that you encounter in France. The second C (Cultures) is a fun aspect to add to the class. I have my students prepare orally for our fieldtrip to La Craperie. I set up a reservation with my French friend Lucie who works there, and my students are only allowed to speak in French. In Fort Collins, this is a very authentic experience. For the more advanced students, I set up tours at the Cheese Importers in Longmont with French speakers, and then we go on a Cheese tour in French. These two different field trips show my students that French is applicable and can be, used even in Colorado. I largely incorporate the third C (Connections) into each lesson plan, as this is easy to do in a foreign language. I teach them about the different regions in France, the history of many different subjects (including, but not limited to, the language, the culture and the habits of French people). We also discuss the daily life in France (including, but not limited to, their schooling systems, their transportation, their way of life, and their politics). The fourth C (Comparisons) was often very enjoyable to teach, and I believe the students loved it as well. I have students reflect upon how the activities, events, or daily life tasks are done in our own culture. This often throws the students off for a minute because they expect class to be all about French. However, it is very difficult to understand another culture if one does not understand their own. I then ask them to compare this reflection to the French equivalence. This also allows the student to reflect more deeply upon their own culture and many students experience an epiphany about their culture while completing this activity. Last, but not least, is the fifth C (Communities). This C is also covered by the adventurous field trips I provide for my classes. In addition to the field trips, I encourage students to attend not only the conversation groups organized by Colorado State University but also those organized by the community. The community French conversation groups are sometimes better for my students since there are a large number of non-traditional (or older) students in my classes. These groups are organized by level and can accommodate everyone, regardless of age or level. They also provide a greater sense of comfort for the older students who do not want to be surrounded by younger students. My students had only great reviews on both the field trips and the conversational groups. Overall, I would say that I am a successful teacher thanks to the variety of points given above. Another great aspect to consider when teaching is flexibility. This comes into play in all of the above. When one technique does not work with a class, even if it had worked in another, you must bend and find a new way to provide the same information. My teaching philosophy includes a variety of techniques and theories that make me the enjoyable instructor that I have become today. Teaching is a never-ending learning experience, even for the individual providing the instruction.
What might you do in a typical first session with a student?
I like to get to know the student's goals and make a comprehensive plan for tutoring. Once this is done, we can test it out and see how it will help. I try to get the most out of every session for the student's benefit.
How can you help a student become an independent learner?
I can provide them with materials that they can access on their own and show them what to look for in any given situation.
How would you help a student stay motivated?
I help students stay motivated by reminding them of the reason they started tutoring. If their goals have changed, then we can reassess and start working towards this new end.
If a student has difficulty learning a skill or concept, what would you do?
I first would try to break it down very simply. Then, if this is still not working, I will try a completely different approach, such as games or songs, to try to make the obscurity become a reality.
How do you help students who are struggling with reading comprehension?
I help them by reading along with them while breaking down the underlying meaning of words and/or concepts.
What strategies have you found to be most successful when you start to work with a student?
The strategies I use are to start by evaluating their level and previous experience. If you do not know where they are coming from, there is no way to move forward.
How would you help a student get excited/engaged with a subject that they are struggling in?
I would have them engage in activities that show them the reality of the French language. The reason I became so intrigued with the language myself was because of the stories I got to hear about French in action. We could even try to maybe get a French pen-pal to help motivate!
What techniques would you use to be sure that a student understands the material?
Evaluation is the best technique to ensure comprehension. Many different types of evaluation can be used such as oral activities, tests, writing examples, etc.
How do you build a student's confidence in a subject?
To build confidence, one must praise the student for the work that they produce correctly.
How do you evaluate a student's needs?
Communication is key to evaluate a student's needs. Speaking to the student to understand what their goal is in learning French AND to know what level they are at currently is what I have found to work best to evaluate a student's needs.
How do you adapt your tutoring to the student's needs?
I evaluate their needs and their learning style, and then I prepare the lesson in accordance with these. This includes the activities, articles, grammatical structures, etc., that I present to them each time.
What types of materials do you typically use during a tutoring session?
I like to use a variety of materials to keep the students interested. These can include newspaper articles, games, songs, and any other media/material necessary.