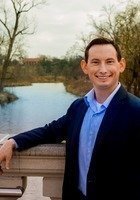 Nicholas
Certified Tutor
Hailing from small-town Leesburg, GA, I graduated from Lee County High School in 2009. I earned an A.A. in Gen Ed, B.A. in Christian Ministries with a dual concentration of Pastoral Ministry and Biblical Studies from Urshan College. I am now working towards completing my Master of Divinity in Pastoral Counseling from Urshan Graduate School of Theology.
I have been tutoring since 2014, where I started as the Teaching Assistant for Urshan's English department and writing center. My main subjects revolve around ELA (English and Language Arts) and include Reading, Grammar and Syntax, Writing, Essay Writing and Editing, College Essay Writing, Application Essay Writing, High School American Literature, College Level American Literature, and some Test Prep (ASVAB). My favorite subject to tutor is British Literature, mainly because I am fascinated by the British writing style and sense of humor. I believe that studying a nation's literature provides perhaps the strongest insight into that nation's culture, and understanding the literature is simply fascinating!
In simplest terms, my teaching philosophy is that students do well if they can. It can be difficult as a student to balance academic struggles with the various trials of life, so at times it is necessary to get help. Further, I take it upon my own responsibility to ensure that the student's learning needs are met so that she/he might achieve the highest success possible.
Outside of academia, I spend a lot of time assisting my church in various capacities, and when I am not there, you can usually find me on a hidden trail in the outdoors. I love to hike, run, swim, and cycle. And, on a day off, there's no greater place to be than on a mountain in a far and distant land.
Education & Certification
Undergraduate Degree: Urshan College - Bachelor in Arts, Christian Studies
Graduate Degree: Urshan Graduate School of Theology - Current Grad Student, Clinical Pastoral Counseling
Hobbies
Hiking, cycling, running, fitness, softball, baseball, world history, philosophy, world religions, British literature, constitutional studies, studies of biblical antiquity
Tutoring Subjects
American Literature
ASVAB Prep
British Literature
College Application Essays
College Level American Literature
Elementary School Math
Elementary School Reading
Elementary School Writing
High School Level American Literature
High School Writing
Other
World Literature