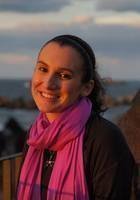 Aurore
Certified Tutor
French/Greek/American marine biologist turned teacher! I have spent many years studying fish eggs and larvae (babies! So cute!) at an environmental consulting firm. However, as much as science gets me really excited, I really missed teaching! I changed careers and have now been teaching. After a year and a half abroad in Japan teaching French and English, I am now focusing on my masters in middle school science education. As a native French and English speaker, I have done a lot of tutoring in both of those subjects. As a science nerd, I am very excited to show students how nifty the natural world around us is. I would be more than happy to help you with biology, ecology, and environmental science!
Education & Certification
Undergraduate Degree: Colby College - Bachelors, Environmental Science, Marine biology
Test Scores
GRE Verbal: 162
Hobbies
I love all animals but am particularly fond of horses, dogs, and cats. I love to read and play fast paced word games/trivia. I really enjoy hiking and bouldering and am always finding an excuse to get my hands dirty. As a previous marine biologist, I am drawn to the water: canoeing, kayaking, and any water sports are great
What might you do in a typical first session with a student?
I would want us to get to know each other! I would like to understand where you stand in the subject, what you need help with, and what your style of learning is. In return, you would get to know me, and see if I am a right fit for you! After getting to know each other a little bit, we would dive right in and have some fun while learning!
How can you help a student become an independent learner?
Building a student's confidence level is key to helping them become independent learners. Having them work through a question they have and find the solution with minimal help will show them that they have the ability to master the subject they are struggling with. Having a routine, perseverance, and knowing that mistakes are OK are all ways I will help a student become an independent leader.
How would you help a student stay motivated?
Usually, a student loses motivation when they feel that they are not progressing fast enough or when they lose interest in the material. I make sure to always show my students concrete ways in which they have improved. Furthermore, when I feel a student isn't very excited about the topic anymore, I will find a new activity or game in order to reinforce the topic learned while having fun!
If a student has difficulty learning a skill or concept, what would you do?
I never give up! I love a challenge. If the conventional explanation of a concept isn't being understood, I love to demonstrate how the topic fits into the real world. If that isn't possible, I try to find an analogy that the student can relate to! Regardless, I will explain a topic in as many different ways until the student understands.
What strategies have you found to be most successful when you start to work with a student?
I like to keep things fun and different. When I first start working with a student, I like to figure out what their learning style is and exactly where they stand with the subject they need help with. I try to get my assessment by providing the student with many different learning activities; it keeps things fun and allows the student to figure out what they prefer when it comes to being taught.
How would you help a student get excited/engaged with a subject that they are struggling in?
I like to make studying fun, either by having a really engaging worksheet or some sort of a game for the student to play. If I know the student well enough to know their hobbies, I try to make analogies between concepts they have trouble with and their interests. Understanding where the student is coming from and putting yourself in their shoes is the best way to figure out how to get a student excited!
What techniques would you use to be sure that a student understands the material?
Practice, practice, practice! By applying the concepts in a quiz or practice test or worksheet, I can see how well they master the material. I would always be there to supervise and answer questions that arise but I want to observe them go through all the steps from start to finish to see if they mastered the work. I would start with easy questions and work my way to the harder trick questions! If a student is very competitive, some sort of tutor vs. student competition would be in order!
How do you build a student's confidence in a subject?
You can build a student's confidence by being positive!
How do you evaluate a student's needs?
I evaluate a student's needs through a series of criteria. I like to personally discuss what the student thinks they need help with and why. That is always very important, and it helps me develop material that is fun and engaging for the student! After a short discussion, I would give a short assessment with many different types of problems within the topic that they struggle with. This allows me to determine if they have a problem with the strategy, or the fundamental concept.
How do you adapt your tutoring to the student's needs?
The student comes first! Some students are visual learners, some are tactile learners, and others are auditory learners. After understanding how a student learns best, I tailor my teaching style so the student can maximize their learning potential.
What types of materials do you typically use during a tutoring session?
Whatever the student would benefit from. Worksheets, flashcards, game, quizzes, and videos are all materials that I have used during a tutoring session. If the student has materials that they would like to use, I would encourage them to bring them so we can use them!