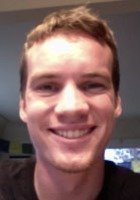 Jesse
Certified Tutor
I am a graduate of the University of Colorado, Boulder. In December of 2014, I received a Bachelor of Arts degree in Astrophysics with minors in Computer Science and Physics. Since graduation I have hiked from Mexico to Canada on the Pacific Crest Trail, a journey which I learned a tremendous amount about myself and the environment which we inhabit. This period of introspection made it clear that I should seek to be the best person I possibly can, and that I should use my talents to their fullest. While my personal goal is to become a professional programmer, I am also passionate about teaching. During college I worked for two semesters as a Teaching Assistant for the class "Introduction to Scientific Data Analysis and Computing" and for one semester as a Learning Assistant for "Astronomy 2." In each of these positions I worked directly with students, either lecturing or providing one-on-one help during office hours. I have a large amount of experience teaching first time programmers with great success. I pride myself in being able to break down difficult or abstract scientific, logical, and mathematical concepts and present them in a more tangible way that facilitates meaningful learning. When I'm not out hiking, biking, or playing music I want to be helping you to learn mathematics, astronomy, physics, or programming.
Hobbies
I enjoy hiking, programming, being exposed to new ideas, and video games a great deal. I play guitar, mandolin, bass and drums. I am also a Viking re-enactor.
Tutoring Subjects
College Computer Science
College Physics
High School Computer Science
High School Physics
Homework Support
IB Mathematics: Analysis and Approaches
IB Mathematics: Applications and Interpretation
Other
Ruby
Technology and Coding
What is your teaching philosophy?
I aim to maximize the learning of my students in the time that I spend with them. I won't hand you answers, but I'll help lead you to the correct solution with questions.
What might you do in a typical first session with a student?
The first session is all about me learning if our partnership will work and what my student already knows. We'll introduce ourselves to one another and determine whether or not we're a good fit for one another. After getting to know each other for a little bit, we'll get cracking on the tutoring.
How can you help a student become an independent learner?
Questions, Questions, Questions! You've heard it before: the brain is a muscle, the more and harder you use it, the stronger it gets. If a student is using their own faculties to answer questions then they are becoming more equipped to answer the questions they ask themselves when learning new things.
How would you help a student stay motivated?
By keeping track of progress, pointing out the really neat things that students are learning, and providing examples about how the knowledge that they are learning can be used in real life, I hope to instill a sense of ongoing accomplishment that inspires a student to keep on with their studies.
If a student has difficulty learning a skill or concept, what would you do?
The first thing is always to ask questions. By listening to a student explain their own thought process they might reveal flaws in the underpinnings of their logic that can be addressed. If that doesn't work, maybe presenting the same concept in a different framework might. Explaining a mathematical concept with a picture might make more sense to some students for example.
How do you help students who are struggling with reading comprehension?
Ask more questions. If we can identify what precisely is the confusing part of a sentence, or paragraph, or equation, then we can work on the comprehension of each confusing word or concept individually. If we're patient and can work through it, we will eventually achieve understanding.
What strategies have you found to be most successful when you start to work with a student?
Always asking questions. My goal is to be able to have a student teach me what they are learning. When a student explains their thought process, I can learn a lot about how they think. If they describe things visually, I can tailor my approach to include more visual aids. If they are analytic, then I won't waste their times by trying to fit concepts into stories that don't help them learn.
How would you help a student get excited/engaged with a subject that they are struggling in?
Everything is actually fascinating if we let it be. One thing I've found to motivate me is to give myself tangible reasons of why my knowledge is practical and useful. Additionally, making a student not feel bad about struggling with a concept can do a lot for engagement. In the words of Jake the Dog: "Sucking at something is the first step to being kind of good at something!"
What techniques would you use to be sure that a student understands the material?
I can't rehash the importance of asking pointed questions enough. If I can ask a question, and they can teach me the correct concepts, then they understand.
How do you build a student's confidence in a subject?
Start easy. Learning isn't some kind of race. We all have to build up to what we want to do. The change in difficulty can be as gradual as it needs to be. Students that are being asked the questions that make them think, but that they can still answer are going to be the most confident.
How do you evaluate a student's needs?
Asking a student to explain a concept before I say anything will reveal to me where that student is at in their process of learning. Showing no negativity toward being wrong can give a student trust enough to reveal the fuzzy parts of their knowledge that they might feel self-conscious about.
How do you adapt your tutoring to the student's needs?
Do what a student responds to, but don't baby them. If a student learns visually, start by drawing explanatory pictures. If a student learns narratively, tell stories. If a student learns analytically, start with equations.
What types of materials do you typically use during a tutoring session?
Good, old fashioned pencil and paper. The Internet can be a good resource for looking stuff up, and there are any number of online resources that can clear up questions we might have. I might ask a student to watch some lectures on a learning tool website on their own time before a session if they want a kick start!