Work With The Perfect Tutor For You
All Sunrise Manor tutors possess the highest qualifications. In addition to completing a rigorous interview process, tutors in Sunrise Manor, NV must pass a background check and have academic credentials verified. An expert director will help you find the best tutor from this elite group; we stand behind these matches and even offer a money-back guarantee.
Receive customized Sunrise Manor tutoring in the comfort of your own home or online at times that are convenient for you.
About Sunrise Manor
Sunrise Manor is an unincorporated town in Clark County, Nevada. It has a population of roughly 189,000 residents. The town belongs to the Las Vegas Township. The Las Vegas Nevada Temple is the town's key landmark.

Sunrise Manor is served by the Clark County School District, which is the fifth largest school district in the state. Three secondary campuses fall within the town's borders, which are Las Vegas High, Eldorado High, and Sunrise Mountain High. Private tutoring in Sunrise Manor is available both online and in-home to help you with general course instruction or test prep. Local colleges include Nevada State College, University of Nevada-Las Vegas, and the University of Nevada-Reno. An expert Sunrise Manor, NV, tutor might be an asset to anyone who wants to work to get into a top college or university.
4.9/5.0 Satisfaction Rating!* Contact us to hear why. We serve Las Vegas and all suburbs.
Session Summaries by Tutors
"We covered review problems for the student's test. This included rational expression simplification, graphing, and domain."
"For the past few weeks, the student and I have been doing different types of problems from old AP Calculus tests. He seems to respond more effectively when doing the work and being able to see how and why the steps are taken to arrive at the correct solution. I've been compiling a list of questions that appear frequently on the AP test and will do so again next week. He expressed interest in more than one session next week to be fully prepared. "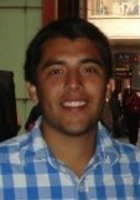 "We covered the material that the student did throughout the semester in preparation for her upcoming test. We focused more on the material from the beginning of the semester since the more recent topics were fresher in her mind."