Work With The Perfect Tutor For You
All Pineville tutors possess the highest qualifications. In addition to completing a rigorous interview process, tutors in Pineville, NC must pass a background check and have academic credentials verified. An expert director will help you find the best tutor from this elite group; we stand behind these matches and even offer a money-back guarantee.
Receive customized Pineville tutoring in the comfort of your own home or online at times that are convenient for you.
About Pineville
Pineville, NC, has a population of approximately 7,500. The suburban town is in Mecklenburg County. The town falls along the South Carolina and North Carolina border.

South Mecklenburg High serves the town of Pineville, which is a member of the Charlotte-Mecklenburg School District. A private Pineville tutoring session can give you expert in-home or online instruction to potentially help you improve in your test prep or course. Online and in-person Pineville tutoring might help you stay on top of your test prep. A great option for students pursuing a higher education is University of North Carolina Charlotte. The school is ranked in the top 200 schools in the nation, which makes it an excellent choice for all students, but a challenge for those who are not achieving academically. You could potentially improve the chances of admittance to this top school if you connect with one of the Pineville, NC, tutors available for private tutoring, instruction, and test prep, either in-home or online.
Private 1-on-1 Tutoring by top UNC/Duke Grads. We serve Charlotte and all suburbs.
Session Summaries by Tutors
"Today I helped the student to review for the upcoming test. I covered the topics such as finding the arc length and sector's area of a circle when the radius and the central angles are given. She learned fast, but sometimes made errors such as flipping the numerator and denominator without any reason. We then jumped right into finding the area of a regular polygon when the radius, or apothem, or side length was given. Again, she did not make any fundamental errors, but she consistently flipped the numerator and the denominator. In order to prevent that from happening, I emphasized what should go to the numerator and what should go to the denominator. I suggested she write down the general formula down, then plug in the knowns and variable unknowns, in order to prevent mistakes from happening. I watched her do one problem in finding the area of a regular polygon without seeing any errors from her--it made me happy. Then we started the SAT tutoring. We only had 30 minutes left at that point, so I did not have time to let her do one section and go over the work. What I did was to have her solve some medium-difficulty problems. She made some mistakes, but she got the idea. She forgot a considerable amount of materials from Algebra, and hopefully I can help her on this in the next sessions. I assigned her with some geometry homework and SAT practice. I hoped she could simulate the test environment when doing the SAT. I will check her progress next time. "
"The student is doing well as he nears the end of his classes. The stuff we worked on is the same material as before, just more advanced, and the student is demonstrating a pretty solid grasp of it! The main thing we're working on is just keeping straight the different formulas and *reading the question* carefully so as to provide the right answer. Sometimes, for example, the problem would ask for surface area, but he would use the volume formula. But when he slowed down and was careful, he was able to pick the right formula. I gave him a few tips to help him remember which formulas are which, and to help parse what the question is asking him on the occasions when the wording is confusing or vague."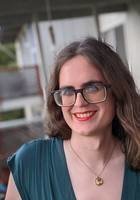 "The student is a freshman in college and is taking a premed curriculum. His previous school work was prelaw, so he does not have a strong science background. We covered homeostasis and temperature regulation. He takes good notes in class and is organized. He mainly needs help interpreting the concepts and clarifying ideas/vocabulary that are new to him. We worked together to identify the most important facts and concepts from his lessons (organism structure, tissue types, feedback loops, voluntary/involuntary responses). I think the subject matter seems a little daunting because it is new, but he will be able to make good progress. "