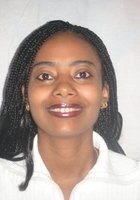 Rahel
Certified Tutor
Dear Students,

I am Originally from Ethiopia, grow up in Cuba where I did my Elementary, High School , Med School and Residency in Gynecology & Obstetrics and started to practice as a young Obstetrician & Gynecologist at the age of 28 first in Cuba and then In Angola where I also engaged myself in a variety of Health Care.
In 2011 I migrated here to peruse the American dream, and now I'm a permanent US resident. I have passed both Step 1 & 2 of USMLE at first attempt & with a high score. In March 2016 I have taken USMLE 3, and I passed it without USA clinical experience. Actually I have a ECFMG certificate. I had my interview to start the Residency training program on July 2017.

I'm a hard working with a very solid fund of medical knowledge talented and multilingual who has lived and matured in different cultures, socio-political and life styles. I know I bring to your table a personality that you won't be disappointed if you give a chance to become you tutor and share my all experience with you.

Sincereley;

Rahel H. Woldemariam, MD.

What is your teaching philosophy?
I believe in our great opportunity to learn new skills and knowledge every day. I strive to learn and to share my educational experience with anyone crossing my path. The communication skills I have developed during my life have assisted me in helping many people. I teach with emotion and dedication to change my students' lives for the better!
What might you do in a typical first session with a student?
I will introduce myself, and I will ask the student to tell me about himself. I will ask the student what is his goal is during our journey? What is his previous experience as student? I will apply a diagnostic test to see where I need to start teaching, and I plan to use various recourses for our homework. I will also ask questions and give examples to increase his interest in our activities.
How can you help a student become an independent learner?
I will help the student to become an independent learner by giving him the resources necessary for him to self-study and set up goals. I will also use additional self-motivating books to improve his learning desire.
How would you help a student stay motivated?
I could show the student the outcome of learning in the future, change the teaching strategy, use positive affirmation statements, and give feedback about his performance continuously.
If a student has difficulty learning a skill or concept, what would you do?
I will use practical examples from our daily life, use pictures or books for reference, find audio materials to listen to help understand the concept, and apply songs as teaching materials.
How do you help students who are struggling with reading comprehension?
I would ask them to read it loud and see what they understand, read the sentence again and find a new word for them to find the meaning of, or change the activity for a few minutes and come back to it later.
What strategies have you found to be most successful when you start to work with a student?
I could practice a number of strategies, including having an interaction with the student to create a connection, listen to the student carefully and know his personality, and run an initial diagnostic test to see where we need to work more.
How would you help a student get excited/engaged with a subject that they are struggling in?
I could make some fun examples about it, show him learning can be fun, or use positive affirmations to change their attitude of learning the subject.
What techniques would you use to be sure that a student understands the material?
I would ask the student to explain what they have learned in their own words, give homework, have them prepare a presentation to their teacher, or have them take an exam.
How do you build a student's confidence in a subject?
I would practice using positive confidence affirmations, reading chapter books for them to increase the power of their mind, and work on giving them positive feedback while teaching.
How do you evaluate a student's needs?
I do this by listening and asking questions, observing nonverbal language, and testing their understanding through exams.
How do you adapt your tutoring to the student's needs?
I work on being flexible to their needs, I ask them to give me suggestions as to how can I improve my teaching strategies, and I make them a part of our teaching system.
What types of materials do you typically use during a tutoring session?
Books, my own experience, websites, and additional materials.