Work With The Perfect Tutor For You
Accomplished First Ward tutors meet our exacting qualification requirements, pass a multi-step interview process, and undergo background screening. One of Varsity Tutors' expert directors helps to pair you with a qualified tutor to ensure the best possible match – it's even backed up with a money-back guarantee.
Receive personally tailored lessons from exceptional tutors in a one-on-one setting. We help connect you with in-home and online tutoring that offers flexible scheduling and your choice of locations.
Session Summaries by Tutors
"The student completed his geometry homework, which consisted of analyzing special quadrilaterals. He had to determine whether certain quadrilaterals were rhombuses, squares, rectangles or parallelograms and explain why. After I walked him through some examples he was able to answer correctly the problems he struggled with initially."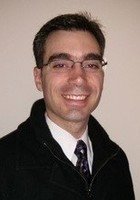 "I worked with the student on trig problems. I helped him with conversion of angle radians to degrees. We also worked on how to express coterminal angles as well as draw them. "
"The student had an assignment on logs to complete, and he was able to work through most problems without difficulty. He was knowledgeable about writing expressions in either logarithmic or exponential form, solving log equations, and graphing log functions. He is well prepared to address these topics as the course comes to an end. In order to properly prepare for his final, we scheduled to meet for an additional session this weekend."