Work With The Perfect Tutor For You
We require the most rigorous qualifications of Angell tutors, in addition to a background check. Only a tiny fraction of those candidates who apply ultimately make it through our demanding interview process. From this elite group, an expert director will help you find the best tutor to meet your individual needs – and we stand behind your satisfaction with our money-back guarantee.
Each tutor skillfully differentiates instruction to meet his or her students' needs. Tutors provide one-on-one sessions when and where you feel most comfortable.
About Angell
Angell, MI, is a suburb of Ann Arbor containing the University of Michigan.

Huron High School of Angell is a member of the Ann Arbor Public Schools. Looking to advance your education through private tutoring in Angell? You may enjoy receiving instruction, either in-home or online, for your class or for test prep. The University of Michigan makes up the majority of Angell's square-footage. Tutors in Angell, who offer tutoring sessions either in-person or online, can provide you the test prep assistance to potentially improve on test day. The school is ranked in the top 30 of the nation's schools. With Angell, MI, tutoring in-home or online, you could potentially increase your odds of getting into these top schools, especially through private instruction for test prep.
Private 1-on-1 Tutoring by top U Mich Honors Grads! 4.9/5.0 Satisfaction Rating*
Session Summaries by Tutors
"In this initial session, we worked on a series of concepts that the student wanted help with. They ranged from basic geometry to algebraic operations. Based on my observations, it is clear that she is naturally gifted at math but sometimes struggles with developing an intuitive understanding of things in school. To remedy this, I emphasized conceptual understanding over simple memorization. I enjoyed the session because she appeared to be genuinely interested in the material. As far as study strategies are concerned, I primarily stressed the benefits of a process-oriented approach to math. For a given sub-concept, once one develops a process and practices it, the particular type of problem has essentially been mastered. I recommended reviewing the notes I left in lieu of extra practice. I will begin quantifying progress over the course of the next few weeks."
"We worked through a few more problems in the Geometry book. We also started a very extensive practice that her Chemistry teacher gave them to review for the final. It was written by someone else, though, and sometimes isn't relevant to her class, so we have to wade through the sections and pick and choose relevant problems. "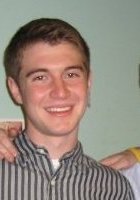 "Yesterday we reviewed for the student's unit test, covering solving systems of equations through graphs, substitution, and writing inequalities. She has said that math is not her favorite subject but she has shown a willingness to put in effort to understand the material and she wants to do well. That is great and it makes my job much easier. She has a good grasp of the concepts and just needs to keep working through problems to sharpen basic calculation skills."