Work With The Perfect Tutor For You
We require the most rigorous qualifications of Bridgewater tutors, in addition to a background check. Only a tiny fraction of those candidates who apply ultimately make it through our demanding interview process. From this elite group, an expert director will help you find the best tutor to meet your individual needs – and we stand behind your satisfaction with our money-back guarantee.
Skilled tutors develop lessons to meet your individual needs. One-on-one tutoring sessions are held at a time and location of your choosing.
About Bridgewater
Bridgewater, MI, was once known as Hixton Township after Daniel Hixton, who settled the area around 1829. It was soon renamed Bridgewater, after the town of Bridgewater in New York, because many of the settlers were originally from New York.

Many students from the township are zoned into the Clinton Community School District and are expected to attend Clinton High. If you are looking for private tutoring, whether in-home or online, you may enjoy working with Bridgewater tutors. Their instruction and test prep could take you far. If you are worried about that big exam coming up, online and in-person tutoring in Bridgewater might help you improve in your test prep. The closest top college is the University of Michigan in Ann Arbor. Whether you are looking to attend a private or public college or university, you might benefit by seeking a personal tutor in Bridgewater, MI, who can offer you online or in-home tutoring sessions for test prep instruction.
Private 1-on-1 Tutoring by top U Mich Honors Grads! 4.9/5.0 Satisfaction Rating*
Session Summaries by Tutors
"The student and I worked on exponents, negative exponents, fractional exponents, simplifying radical expressions."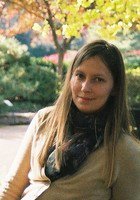 "We finished 4 separate worksheets. Each of these four worksheets focused on a different subject, from long division/multiplication, to translating word problems into formulas, etc. We are both preparing for another long session on Thursday as she has her first test in her class on Friday. "
"The problems required her to solve problems with numbers with negative exponents and to rewrite variables with negative exponents to have positive exponents. As with many of the new algebraic rules, the student struggled at first to understand the rules and procedures to solving these problems, but after practice and seeing how it works, she was able to solve them successfully on her own. I attempted to show her a few shortcuts after she understood how to solve them the long way."